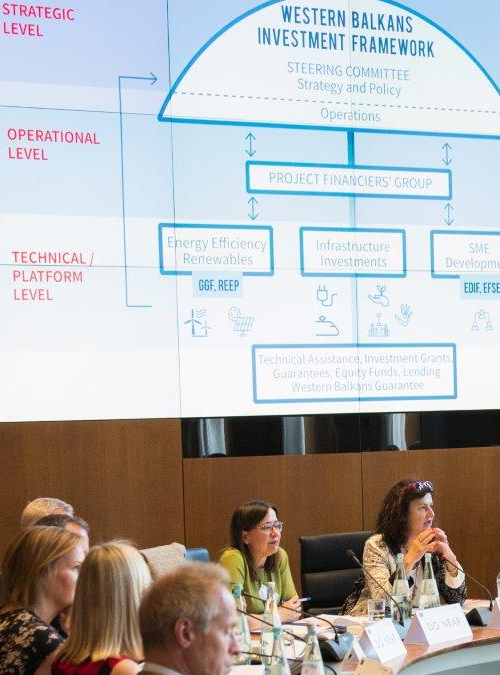 20th WBIF Steering Committee Meeting, Berlin, 25-26 June 2019 - Celebration of WBIF's 10-Year Anniversary
27-06-2019
Key WBIF stakeholders met at the 20th WBIF Steering Committee to discuss strategic developments for the Framework and approve €20.2 million in technical assistance grants for twenty projects.
More than 100 participants from the European Commission, Financial Institutions (EIB, EIF, EBRD, CEB, KfW, WBG and AFD), Bilateral Donors (Austria, France, Germany, Greece, Italy, Luxembourg, Norway, Slovenia and Sweden), the Energy Community Secretariat (ECS), the Regional Cooperation Council (RCC) and the Western Balkans beneficiaries attended the 20th WBIF Steering Committee (SC) meeting in Berlin. Also, the WB Enterprise Development and Innovation Facility (WB EDIF) participated in the extended WBIF SC meeting, a first tangible result of the WBIF's evolution into WBIF 2.0.
The meeting was co-chaired by Deputy Director General Katariná Mathernová and hosted by the German Ministry of Finance in Berlin. She presented WBIF's achievements of the past 10 years (click here for the 10 years clip and here for the photo exhibition) and outlined the strategic evolution of WBIF becoming a forum for Commission led policy orientation and alignment as well as to ensure investments are better linked to these EU policy priorities. DG NEAR Director Genoveva Ruiz Calavera presented details on the political context, Western Balkan Strategy and development of IPA III impacting the future WBIF. A session lead by Head of Unit Barbara Banki focused on the current and future guarantee instruments for the region. Germany presented the vision of the Bilateral Donor community and reaffirmed their support to WBIF's evolution. Day 1 concluded with the WB EDIF holding their Platform Advisory Group (PAG) meeting, now integrated into the WBIF SC meeting.
The second day was devoted to monitoring and project approval, where the Steering Committee approved 20 technical assistance grant applications for €20.2 million. These will support project preparations in all WBIF sectors, namely digital, social, environment, energy and transport.
The meeting celebrated the 10-year anniversary of the WBIF, which will also be carried over to the Poznan Summit next week.
More details (agenda, presentations, 10th year visibility products) can be found here.