WBIF in Bosnia and Herzegovina

Estimated Project Value: €3.9 billion
---
WBIF Grants: €312.4 million, out of which €295.3 million from the EU and €17.1 million from other donors
---
Loans Signed: €1.8 billion
---
The WBIF has supported 29 projects with an overall estimated value of €3.9 billion across all eligible sectors. The WBIF has provided €312.4 million in grants, whereas the loans signed on WBIF project reached €1.8 billion. The EU support channelled through the WBIF accounts for €295.3 million and covers both technical assistance and investment works.
The WBIF has helped prepare and implement key infrastructure projects in a variety of sectors, such as electricity distribution, wind power generation, flood protection and water resources conservation, water supply and waste water collection and treatment throughout the country, healthcare and medical education facilities, social housing solutions for internally displaced people, prison facilities, road and railway links with countries in the region and the EU, inland ports.
The WBIF supports Bosnia and Herzegovina in fulfilling key priorities of the Economic and Investment Plan for the Western Balkans by 2024, including:
Flagship 1 – Connecting East to West:The demining of the Sava river and addressing bottlenecks on the Danube river will be completed.
Flagship 2 – Connecting North to South: 75% of the Corridor Vc will be completed to motorway standards. The rail connection along the same corridor will also be upgraded. The Sarajevo to Podgorica capital to capital connection will be enhanced.
Flagship 5 – Transition from coal: The Bosnia and Herzegovina – Croatia Gas Interconnector will be completed.
Flagship 8 – Digital infrastructure: The development and roll-out of national broadband infrastructure will continue – with the completion of the most advanced investment projects by 2024.
Achieved results (2009 - 2020):
44 km of motorways
Improved water and waste water systems for 650,000 people
Flood forecasting and warning system for 3.3 million people in the Sava River Basin
New prison in line with European standards for 350 detainees
Expected results (2021 - 2030):
97 km of motorways, 2 cross-border bridges and facilities
57 km of railway lines rehabilitated
1 inland port renovated, improved navigability on 40 km of waterway
158 MW electricity from renewables
129 km of electricity lines upgraded
162 km of gas pipelines
Improved water, waste water and solid waste services for 1.2 million people
Over 1.7 million people protected from floods
Healthcare treatment and research facilities for 1.4 million people
Social housing for at least 7,200 internally displaced people
Out of the 29 supported projects, 6 have been completed, 10 are being implemented, 1 is tendering for works to start construction, and 12 are at various stages of preparation. In addition, Bosnia and Herzegovina has benefited from regional projects and initiatives funded by the WBIF, such as the Regional Energy Efficiency Programme for the Western Balkans (REEP and REEP Plus) and the Western Balkan Enterprise Development and Innovation Facility (WB EDIF).
For more details on specific WBIF operations in Bosnia and Herzegovina please visit our Projects page.
2015 Connectivity Project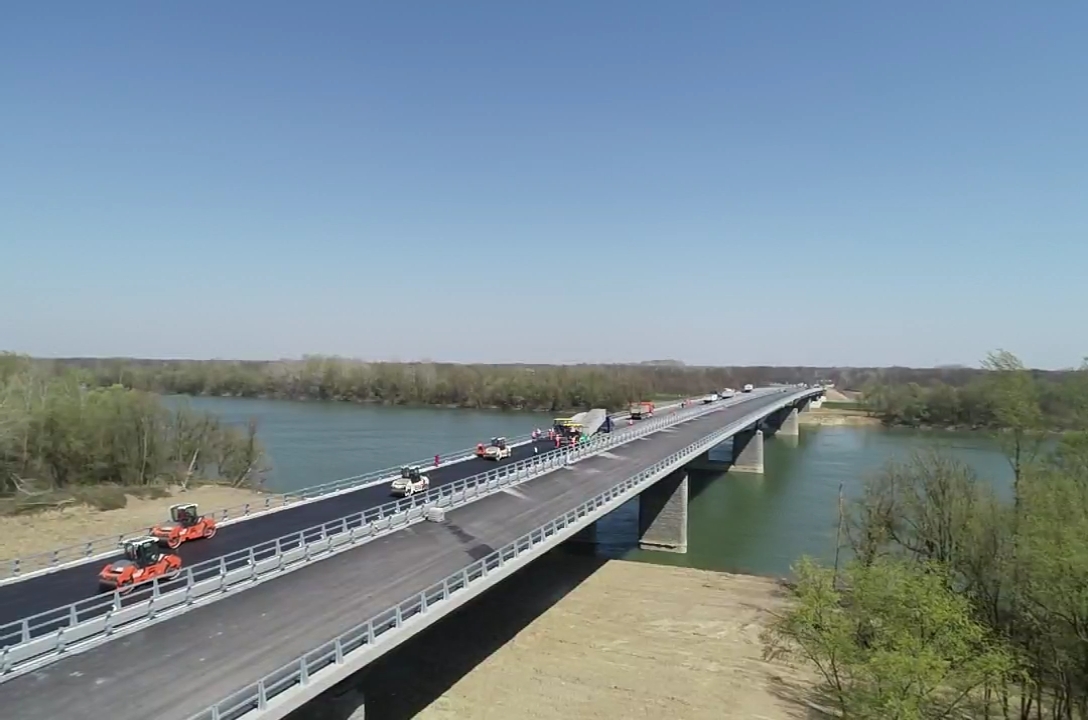 Mediterranean Corridor (CVc): Bosnia and Herzegovina – Croatia Road Interconnection, Svilaj – Odzak Motorway Section and Svilaj Bridge, (c) JP Autoputevi Republike Srpske. Construction of 10.7 km of motorway, cross-border bridge over the Sava River at Svilaj and border crossing facilities.
€109.9 million investment value
€25.09 million EU grant for construction works
€45.0 million EIB loan
€21.96 million EBRD loan