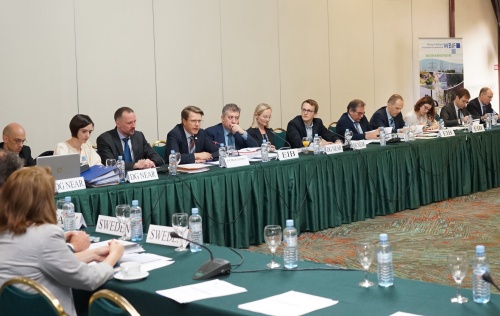 25th Meeting of the Western Balkans Investment Framework (WBIF) Project Financiers' Group
02-05-2018
The twenty-fifth meeting of the WBIF Project Financiers' Group (PFG) took place in Skopje, between 26 and 27 April 2018. It brought together more than 90 participants from the European Commission (Headquarters and Delegation), WBIF financing institutions, Bilateral Donors, and Western Balkans beneficiaries.
After the opening by the EU Ambassador Samuel Zbogar, plenary discussions focused on the applications received for technical assistance (TA) under Round 19. Eleven grants have been selected for approval by the WBIF Steering Committee in the meeting scheduled for 18 and 19 June. With a total grant value of €21.8 million, the TA, if approved, will be provided by IPA through the Infrastructure Project Facility as well as by Bilateral Donors' contributions to the WBIF Joint Fund. The grants are intended to contribute to the further planning and implementation of environment and transport projects, and, for the first time under the WBIF, to digital infrastructure planning, throughout the region.
The proceedings of the PFG meeting also included: the latest WBIF Monitoring Report, introduction of Agence Francaise de Developpement (ADF)'s operations in the Western Balkans; and a detailed presentation by DG CONNECT on the need and best development options for better broadband connectivity in the Western Balkans. The plenary was complemented by a workshop on Infrastructure Project Facility with a view to discuss the Facility's ten years in operation and seek feedback on matters that could be further improved in the next period.
More details on the WBIF PFG meeting (e.g. agenda and a selection of PowerPoint presentations) can may be found in Library.