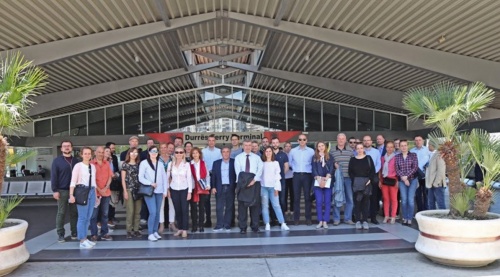 27th Project Financiers' Group Meeting
29-05-2019
Around 100 participants from the European Commission, WBIF financial institutions (EIB, EBRD, CEB, KfW, WBG and AFD), Bilateral Donors, Western Balkan beneficiaries, the Regional Cooperation Council (RCC), and the Energy Community Secretariat attended the meeting in Tirana. The EU Ambassador and Head of EU Delegation Mr Luigi Soreca opened the meeting, co-chaired by DG NEAR's Head of Sector Mr Wolfgang Schläger and EBRD's Director for the Western Balkans, Ms Zsuzsanna Hargitai.
Project grant recommendations included 19 Technical Assistance (TA) grants that will be proposed to the 20th WBIF Steering Committee for approval in June. In addition, 11 investment grant requests were assessed positively.
Technical discussions included the state of play of the expansion of WBIF and the outcome of a comprehensive stakeholder consultation, together with the main findings and recommendations of various evaluations recently carried out. In addition, funding needs in the Western Balkans, the youth education sector, the challenges for the Western Balkans' Digital Economies and Public Private Partnerships (PPP) were discussed.
More details (agenda, presentations) can be found under the WBIF library.
The meeting was followed by a visit to the port of Durres where the Commission is co-financing the rehabilitation of Quay 1 and 2. The estimated total investment cost is 62.45 million EUR of which the EU is contributing €28.15 million in grants (including €1.1 million in TA), and the beneficiary will contribute with €9.3 million. The project is estimated to be completed in 2023. More details on the project can be found in the summary included on the project page.
Visit to the Port of Durres. (c) Durres Port Authority