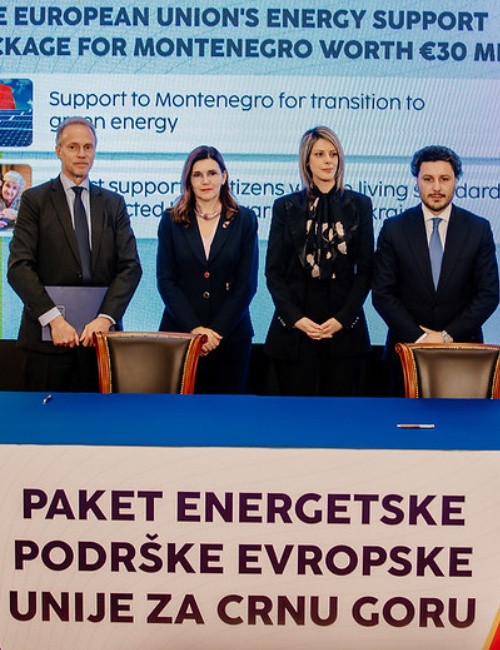 EU energy support package of €30 million to help most vulnerable households and SMEs in Montenegro
10-03-2023
Vulnerable households and SMEs in Montenegro will pay less for energy thanks to a €30 million budget support from the EU. This financial support, announced by the President of the European Commission Ursula von der Leyen in October 2022, is the first tranche of the ambitious €1 billion EU Energy Support Package to help the Western Balkans face the current energy crisis and promote its clean energy transition.
The EU Ambassador in Montenegro Oana-Cristina Popa and Prime Minister of Montenegro Dritan Abazović, attended the signing of the €30 million budget support. €27 million euros are available immediately to fight the energy crisis in Montenegro, while the EU will pay the remaining €3 million at the beginning of 2024.
The ceremony was also attended by the Minister of Finance Aleksandar Damjanović, coordinator of the Ministry of European Affairs Ana Novaković Đurović, and the EU Delegation Head of Cooperation Yngve Engstrom.


The Government of Montenegro will distribute €8.5 million of the total amount to pensioners and those receiving social benefits, who are affected by inflation due to the increase in energy prices. A one-off payment of €150 will be made to those with the lowest pensions - more than 40,000 recipients - while the most vulnerable families will receive €350. €13 million will be earmarked for energy efficiency improvements in households, companies, tourism and industry.
EU Ambassador Popa said: "The first goal is to protect the most vulnerable groups of the population. We have agreed to support those with the lowest incomes, who are already affected by the increase in the cost of living caused by the Russian war against Ukraine. Pensioners, individuals and families currently receiving social benefits will receive direct cash compensation. We also wanted to ensure that everyone who currently receives help with their electricity bills will continue to be supported in 2023. Secondly, the only way to ensure long-term sustainable supply is to switch to green energy. With the energy support package, we are supporting Montenegro in its efforts in the green transition, which will also help increase its energy security."
Prime Minister Abazović said: "This type of support is extremely important for citizens, because this segment alone will affect more than 40,000 citizens. The EU is our most important foreign policy partner and the biggest strategic goal of our country is to become part of the big European family."
The first €500 million of the €1 billion Energy Support Package for six Western Balkan partners will provide direct funds to the region's economies through budget-support measures:
- To balance the increase in energy prices for businesses and the energy sector
- To keep energy prices affordable, especially for vulnerable households
- To support policy measures to accelerate the green energy transition
The second part - another €500 million - will cover priority flagship investments to diversify energy supplies, boost renewable energy and improve energy efficiency. It will also promote the clean energy transition of the region and cut dependency on Russia's fossil fuels.

More about the Energy support package