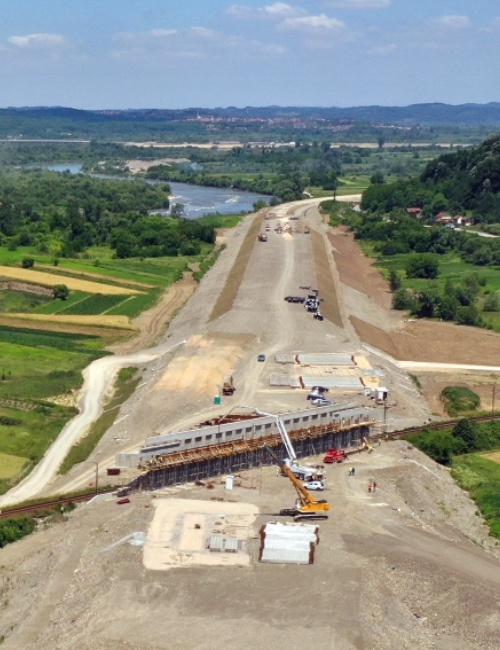 Official Start of Works on the EU-supported Corridor Vc Section near Doboj
Works started on Corridor Vc section from interchange Rudanka to the exit tunnel Putnikovo brdo 2, another important part of the Corridor Vc in Bosnia and Herzegovina. It creates a precondition for construction of the bypass road around Doboj. This section crosses entity border in the middle of a tunnel Putnikovo brdo 2 and is an example of a successful cooperation between the public companies of both entities - Federation of BiH and Republika Srpska.
The official ceremony was attended by Stefano Ellero, Head of Cooperation of the Delegation of the European Union in Bosnia and Herzegovina, Manuela Naessl, Head of BiH of the European Bank for Reconstruction and Development (EBRD), Zoran Tegeltija, Chairman of the Council of Ministers of BiH, Vojin Mitrović, Minister of Communications and Transport of BiH, Radovan Višković, Prime Minister of Republika Srpska, Nedeljko Ćorić, Minister of Transport and Communications of RS, Dušan Topić, Director of RS Highways, and Boris Jerinić, Mayor of Doboj.
The construction of this very demanding 5.3 km section includes several major structures: Bridge Rudanka over Bosna river, dual tube tunnel Putnikovo brdo 1 (L= 1,590m), Viaduct Putnikovo brdo and finally dual tube tunnel Putnikovo brdo 2 (L=700m), crossing the FBiH and RS entity border.
Estimated costs for this section are €190.9 million, financed through €37.9 million in EU grants through the WBIF, €150 million EBRD loan and €3 million in beneficiary contributions. The section is planned to be completed in 2024.
The project will substantially shorten the travel distance along the north-south corridor. The current travel speeds from 50 km/h on the local magistral way crossing the Doboj city can increase to 130 km/h on the bypass. It is thus expected to generate substantial benefits in terms of time savings, reduced accident rates, savings in vehicle operating costs and reduction of local pollution in the area. The project will also increase accessibility and promote regional as well as local economic development by increasing the average annual daily traffic to more than 57% and connect the existing road M17 with Corridor Vc.
Manuela Naessl, EBRD said: "It is great to see the progress and hear a firm commitment by the Council of Ministers to finishing Corridor Vc in 2028. Citizens and businesses are waiting for this important infrastructure."
Zoran Tegeltija, Chairman of the Council of Ministers of BiH said: "We can be very satisfied with our joint efforts, when public companies and administrations of both entities - Federation of BiH and Republika Srpska - are working together on such an important project."
Corridor Vc is a major transit road between the countries of the region that runs through Bosnia and Herzegovina, and was thus identified as "Flagship 2, Connecting North to South" in the European Commission's Economic and Investment Plan for the Western Balkans 2021-2027. Following the TEN-T Mediterranean Corridor extension to the Western Balkans, Corridor Vc starts in Budapest, runs via northern Croatia (Osijek), crosses 325 kilometres through Bosnia and Herzegovina via Doboj, Zenica, Sarajevo and Mostar, and ends in the Croatian port of Ploče.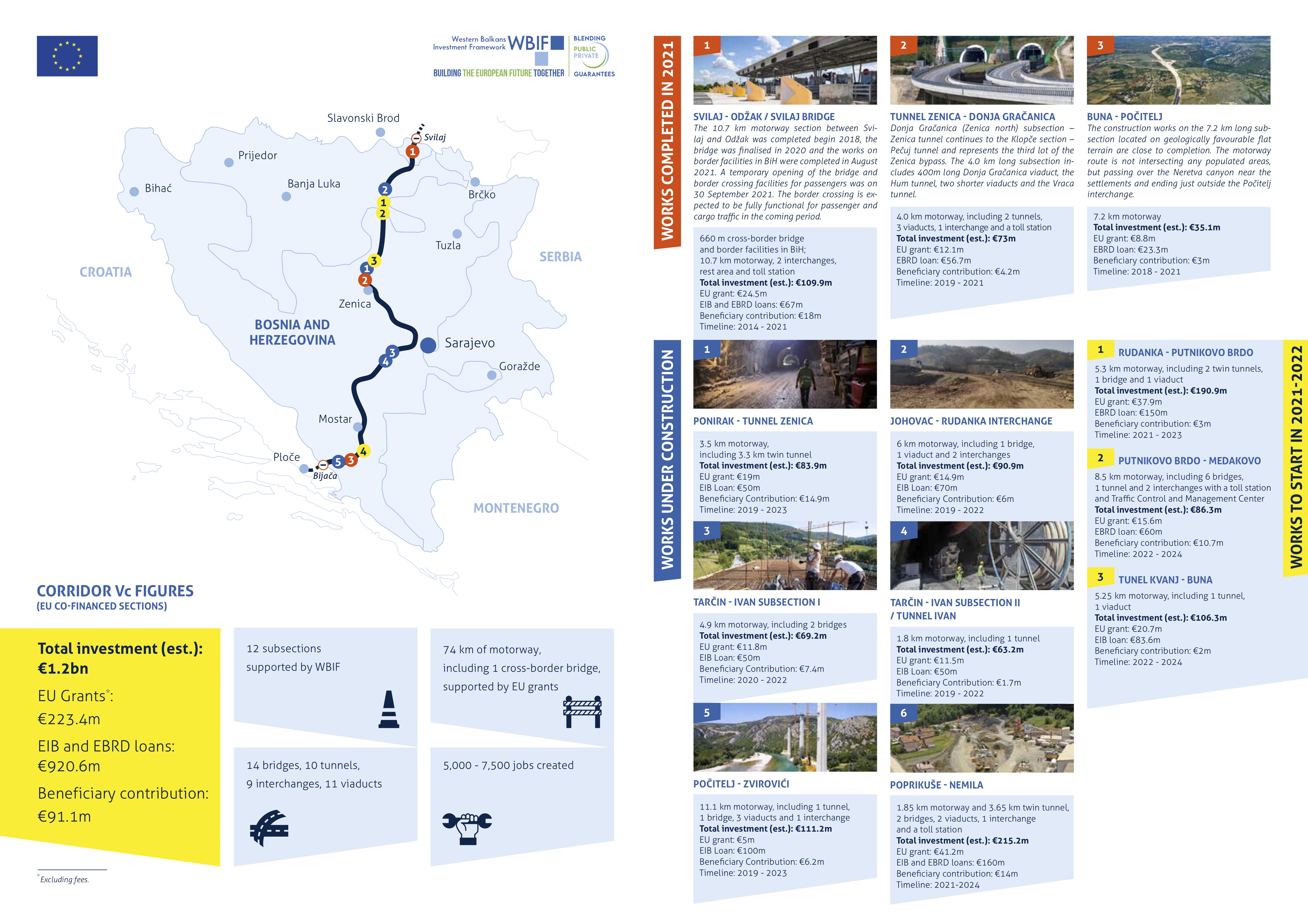 Factsheet Corridor Vc in BiH, November 2021