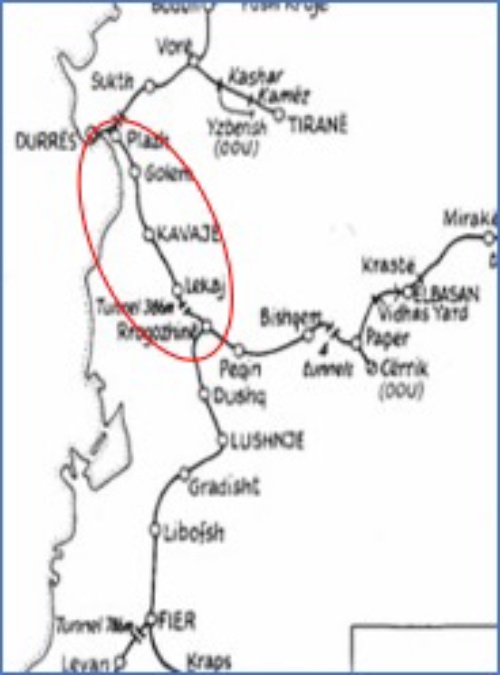 Start of the EU-funded Technical Assistance for the Rehabilitation of the Durres – Rrogozhina Railway Section in Albania
10-02-2020
The kick-off meeting to mark the start of the EU-funded technical assistance (TA), including the detailed design for the rehabilitation of the railway section Durres – Rrogozhina, was held in Tirana on 7 February. Through the upgrade, the rail line will meet European standards, increase train speeds and improve travel safety, notably at level crossings.
Based on the results of the Preliminary Design and Preliminary Environmental and Social Impact Assessment (ESIA) for the rehabilitation of this section that was prepared under the Infrastructure Project Facility 4 (IPF4) in 2018, the scope of the TA services under the IPF8 will include:
Detailed surveys, including geotechnical, topographic and environmental baseline surveys;
Detailed Design for the rehabilitation of this section;
ESIA according to EBRD and EIB procedures;
Tender Documents for construction works and for supervision of construction.
For the services, the EU has allocated two TA grants through the WBIF in the amount of €2.42 million. The total estimated investment cost for this rehabilitation project is around €62 million, provided by the European Investment Bank and through national contribution.
The section to be rehabilitated is part of the WBIF project 'Comprehensive Network: Rehabilitation of Durrës - Pogradec - Lin Railway Line and Construction of Lin - Border with North Macedonia Line on Corridor VIII'. The Pan European Corridor VIII, comprised of both road and rail links will link southern Italy with the coast of Bulgaria on the Black Sea.
Mr. Artan Shkreli, Deputy Minister of Infrastructure and Energy of Albania: 'The railway line is of crucial importance for Albania's economic growth, as well as for the transport of passengers and commodities.'
Mr. Piers Vickers, European Investment Bank: 'The role of the railways is to tackle also the issues of the climate change, and the EIB and EU are willing to support Albania in these efforts.'
Project Background
The railway in Albania was built between 1947 and 1950 with little or no maintenance undertaken over the last 25 years, with the numerous existing crossings being unmanaged. Trains travel at low speeds due to the bad condition of the infrastructure and safety concerns.
In addition to being part of Corridor VIII, this section also constitutes the sole rail link between the West and East parts of Albania linking Durres with the provincial capitals Elbasan and Pogradec. A branch line provides link to southern cities of Fier and Vlora. The length of the section considered for this assignment is approximately 33.5km and lies along relatively flat terrain at the base of a low mountain range.

Additional information on the WBIF activities in Albania can be found here.