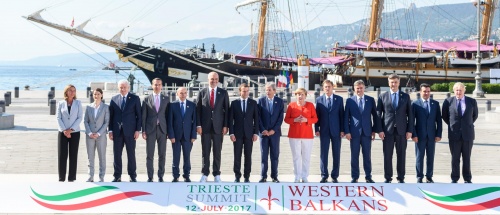 The WB6 Summit in Trieste Sets the Ground for Improved Regional Cooperation
12-07-2017
The Western Balkans leaders agreed on an action plan to develop a Regional Economic Area to consolidate a market of some 20 million people, and so attract investment and generate growth and jobs.
Objectives to be reached over the next years also include development of digital markets, smart growth, mobility of skilled workers and mutual recognition of professional qualifications in the region. The European Union will support the implementation of this initiative with a package of €7 million for the improvement of the investment climate, smart specialisation strategies and the Western Balkans Chamber Investment Forum. The Forum, which gathers local chambers of commerce, inaugurated its permanent secretariat in Trieste and will help put the Regional Economic Area into concrete opportunities for companies across the region.
The detailed conclusions of the Summit can be be found here. More details on how the European Union contributes to improving regional cooperation in the Western Balkans can be found here.
Representatives of the European Union Member States, countries in the Western Balkans, and of the European Commission in Trieste, 12 July 2017. © European Union. Source: EC - Audiovisual Service (ref. no. P-034873/00-22 ). Photo: Jure Makovec.