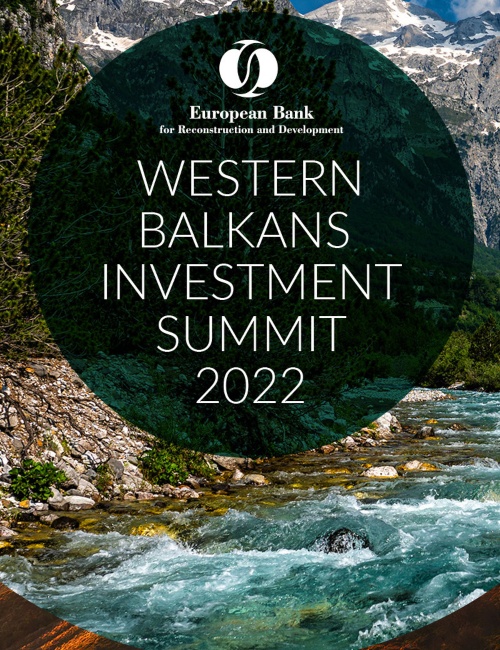 Western Balkans prime ministers attend EBRD investment summit
The European Bank for Reconstruction and Development (EBRD) welcomed on Monday 28 February, the heads of government of Albania, Bosnia and Herzegovina, Kosovo, Montenegro, North Macedonia and Serbia to its Western Balkans Investment Summit 2022.
The event was opened by EBRD President Odile Renaud Basso, who stressed in her speech that regional cooperation is vital to the economic prospects and political stability of the Western Balkans. "The EBRD has been a very strong champion of such cooperation," she said, adding that the Bank has to date invested more than €15 billion in the region and continues to invest more than €1 billion there every year.
In his address, European Commissioner for Neighbourhood and Enlargement Olivér Várhelyi outlined the European Union's plans to increase economic support to the region in the coming years to €30 billion. Implemented in partnership with the EBRD and other institutional and private investors, the financing aims to speed up the region's social and economic convergence with the EU and is expected to boost its gross domestic product by 3.6 per cent.



"Europe does not end at Zagreb or Budapest," Mr Várhelyi said. "The Western Balkans naturally belong here too."
For Serbian Prime Minister Ana Brnabić, the investment priorities included the Connectivity agenda, energy stability and diversification, and environmental protection. She also highlighted three priority projects: the Sarajevo-Belgrade Highway, the "Highway of Peace" linking Niš, Priština, Tirana and Durres, and the gas interconnector between Serbia and Bulgaria, which will ultimately connect to a liquefied natural gas (LNG) terminal in Greece.
For Prime Minister Dimitar Kovačevski of North Macedonia, the priorities started with skills and vocational education training and job creation. Priority projects included Corridor VIII, an electricity interconnector with Albania, and digital connectivity. A project to connect the country to the LNG terminal in Greece is also being considered.
Montenegro's Prime Minister Zdravko Krivokapić highlighted his country's progress on governance, including the transparency of government spending. Investment in healthcare and education were cited as important factors in encouraging young people not to emigrate. He proposed that future highway projects should connect not only the countries of the region, but also improve access to Italy and Turkey.
Prime Minister Albin Kurti drew the attention of foreign investors to Kosovo's young, educated workforce, many of whom are fluent English and German speakers, its dynamic IT sector and the recent creation of a commercial court. Kosovo needs to build new electricity generation and to phase out coal, and is planning to launch a common power exchange with Albania this year.
Prime Minister Edi Rama of Albania stressed the importance and potential of the tourism sector for his country, which is building four new sea ports and two new airports to develop tourism. Albania, which draws nearly all of its electricity from hydropower, also needs to diversify its energy sources.
Prime Minister Zoran Tegeltija underlined the importance of investors already familiar with Bosnia and Herzegovina, such as the EBRD, promoting the country's openness to foreign investment and its commitment to a stable investment climate, peace and economic development. Regional interconnection, including a road between Banja Luka and Doboj and a rail connection to Serbia, is crucial.
All leaders spoke of plans to develop renewable energy sources, which require a regional energy system to balance the inflow of renewables into national grids and, in some countries, a change of legislation to enable large-scale private investment.

Text, images and video (c) EBRD
Opening remarks by Commissioner Várhelyi at the EBRD Western Balkans Investment Summit | European Commission (europa.eu)

More about the EU's Economic and Investment Plan for the Western Balkans 2021-2027
More about the WBIF Flagship projects, endorsed in 2022