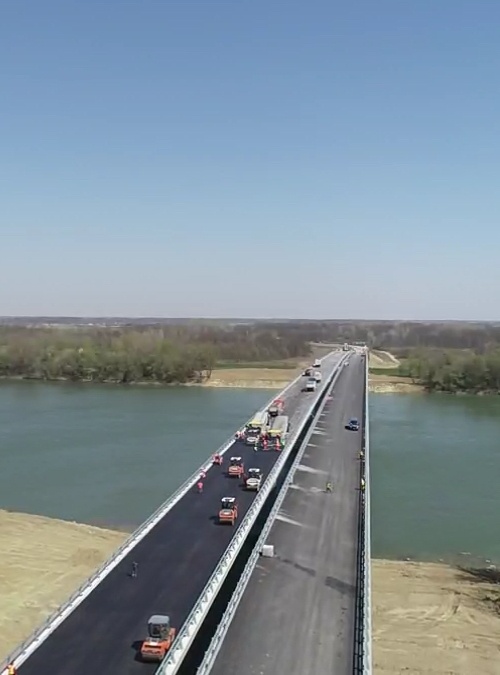 2015 Connectivity Project: Svilaj Bridge over Sava River in the Final Stages of Completion
26-04-2020
The 660m cross-border Svilaj bridge over the Sava River, which connects Bosnia and Herzegovina and Croatia, is in the final stages of construction. The works are progressing despite the Covid-19 situation, with regard to the necessary safety measures.
The bridge consists of two construction components - a downstream bridge in the direction to Croatia and an upstream bridge towards Bosnia and Herzegovina. While the downstream bridge has already been completed, the completion of the upstream bridge is planned for the following days. A bridge test (trial load), horizontal signalling, technical inspection and obtaining use permits are expected to be finalised in May.
The bridge is part of the EU supported construction of the Svilaj – Odžak section on the Corridor Vc motorway through Bosnia and Herzegovina. This section consists also of the 10.7 km motorway, finished in 2019 and state-of-the-art border facilities for which the construction and supervision contract was signed begin April 2020.
Mr Vojin Mitrovic, Minister of Communications and Transport of Bosnia and Herzegovina visited the Svilaj bridge construction site and used the opportunity to thank the European Union for their support to this project of national and regional importance.
This 2015 Connectivity Agenda project is planned to be finished by the end of 2020. The estimated total investment value is €110m, financed through €25m in EU grants, over €67m in loan financing by EIB and EBRD and and €18m from the national contribution.
Once operational, the route between the two countries will accommodate 2x2 traffic lanes and allow speeds up to 130 km/h. Passenger and freight carrying capacity will be significantly improved, with reduced travel timeand lower operational and maintenance costs for motorway operators. The investment will facilitate trade, regional integration and sustainable growth and thus have a positive impact on the broader economy of Bosnia and Herzegovina.
---
Photo gallery of the Svilaj – Odžak section here.
More about the WBIF Project Mediterranean Corridor: Construction of Road Corridor Vc in Bosnia and Herzegovina here.
More about the Connectivity Agenda Projects here.