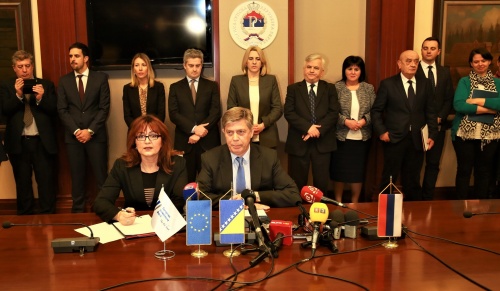 €6.8 Million Grant Agreement Signed for the Second 2015 Connectivity Agenda Project in Bosnia and Herzegovina
13-03-2018
The second grant agreement for Bosnia and Herzegovina under the 2015 Connectivity Agenda investment package is signed by representatives of the European Union, Bosnia and Herzegovina, and the European Investment Bank.
The EU grant has leveraged an overall investment in excess of €38 million and will support the construction of border crossing facilities and a cross-border bridge over the River Sava, in Gradiska, as well as road connections to the Banja Luka – Gradiska motorway. The new developments lie along Route 2a (R2a) which spans 239 km, from Lasva and Banja Luka in Bosnia and Herzegovina to Okucani in Croatia. It thus connects Bosnia and Herzegovina (the Republic of Srpska) to the main transport routes in Croatia leading to the Adriatic ports.
The design for the proposed developments is now in place. The environmental and construction permits for the investments in Bosnia and Herzegovina have also been obtained and tendering can commence. Financing agreements as well as the permitting process across the border in Croatia will be finalized in the coming period. The new facilities in Bosnia and Herzegovina are estimated to become operational by the end of 2022.
Ambassador Lars-Gunnar Wigemark, Head of the EU Delegation and EU Special Representative in Bosnia and Herzegovina, Ms Vjekoslav Bevanda, Minister of Finance and Treasury for Bosnia and Herzegovina, as well as Mr Matteo Rivellini, Head of the EIB for Slovenia, Croatia and Western Balkans Division, attended the event as well as the subsequent press briefing.
More details on the event can be found here. Additional information on the project as well as on the WBIF operations in Bosnia and Herzegovina can be found here and here.