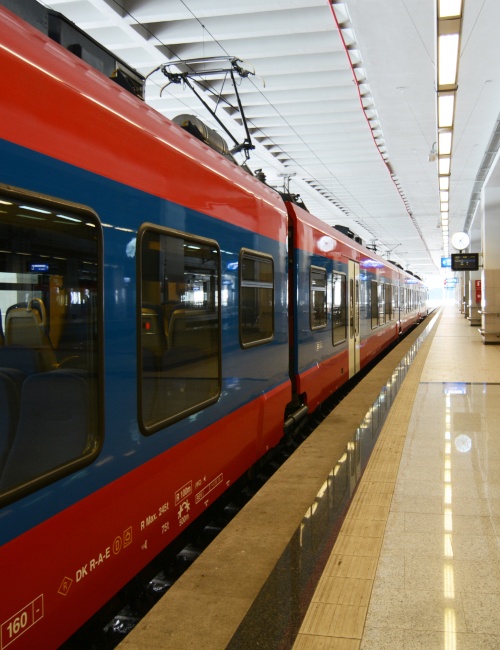 From Belgrade to Niš at 200 km/h – EU financial package of €2.2 bn for Railway Corridor X
03-03-2023
On 28 February 2023, the European Commission, the European Investment Bank (EIB), the European Bank for Reconstruction and Development (EBRD) and Serbia announced jointly a €2.2 billion financial package for the modernisation of railway Corridor X.
The package focuses on rehabilitating the railway section between Belgrade and Niš, enabling a high-speed rail connection of up to 200 km/h between the two cities, with a faster flow of goods and services, and a rapid integration into the EU railway network.
The package consists of an investment grant of up to €598 million from the EU - the largest EU grant for a single project in Serbia so far; a €1.1 billion loan from the EIB and a €550 million loan from the EBRD.
The EU has already approved €265 million in IPA grants, and the first tranche of €82.8 million was sealed by a protocol signing on the train from Belgrade to Niš.


The signing took place in the presence of the European Commissioner for Neighbourhood Policy and Enlargement Negotiations, Olivér Várhelyi, and the President of Serbia, Aleksandar Vučić, as well as the Head of the EIB Office for the Western Balkans, Alessandro Bragonzi, the Director of the EBRD for the Western Balkans, Matteo Colangeli, the Minister for EU Integration, Tanja Miščević, the Minister of Construction, Transport and Infrastructure, Goran Vesić and the Minister of Finance, Siniša Mali, as well as EU Member States' diplomats.
Railway Corridor X is one of the pan-European corridors connecting Central Europe with Thessaloniki, Greece. It has been identified as Flagship 1 – Connecting East to West, within the EU's Economic and Investment Plan for the Western Balkans. The plan aims to mobilise investments in the areas of transport, energy, green and digital transition, to create sustainable growth and jobs reaching one-third of the GDP of the Western Balkans.



(c) EU Delegation to Serbia, February 2023

Olivér Várhelyi, European Commissioner for Enlargement Negotiations, said: "The modernisation of the Belgrade-Niš railway line is an excellent example of how the Economic and Investment Plan benefits the citizens and the economy of Serbia, by connecting the country with the EU and regional markets, encouraging economic development and accelerating Serbia's integration into the EU."
Aleksandar Vučić, President of Serbia stated: "We are receiving €600 million as a gift - the most aid, the greatest support, the largest amount of money (ever received). When we do this, Niš will be one hour and 40 minutes away from Belgrade, and right now you cannot get there by car in less than two and a half hours. When the railway was built in 1884, it took eight hours to travel, now it takes six and a half. Nothing has changed in 130 years. Now we are changing Serbia, with the help of the European Union."
Lilyana Pavlova, EIB Vice-President responsible for the Western Balkans: "As the bank of the European Union, we at the EIB are committed to providing support that is sustainable both for the environment and for our partners' finances. That is why this partnership to modernise Railway Corridor X is at the heart of EIB Global. By blending our funds, grants and technical assistance from the WBIF and the European Union's Instrument for Pre-Accession Assistance, we have been able to bring this project off the ground faster, and provide the most competitive financing offer."
Matteo Colangeli, EBRD Director for the Western Balkans and Head of Serbia: "Modernising rail infrastructure and making rail transport safer and more efficient is one of our priorities in the Western Balkans and a key enabler for the region's economic development. We have a longstanding commitment to the Serbian rail sector and we are pleased to team up with the European Union and the EIB on this landmark project."
The financial package of €2.2 billion will enable a substantial upgrade of the railway infrastructure along the Belgrade-Niš section, including the construction of new bridges and tunnels. This will permit travel at speeds of up to 200 km/h and improve Serbia's connectivity to other European rail networks. It will facilitate faster freight transport services and reduce commuting time to both Niš and Belgrade. Finally, as rail is a clean mode of transport, modernising the railway system will also contribute to a cleaner environment.

More about the Rail Corridor X event here
More about the Economic and Investment Plan flagship investments