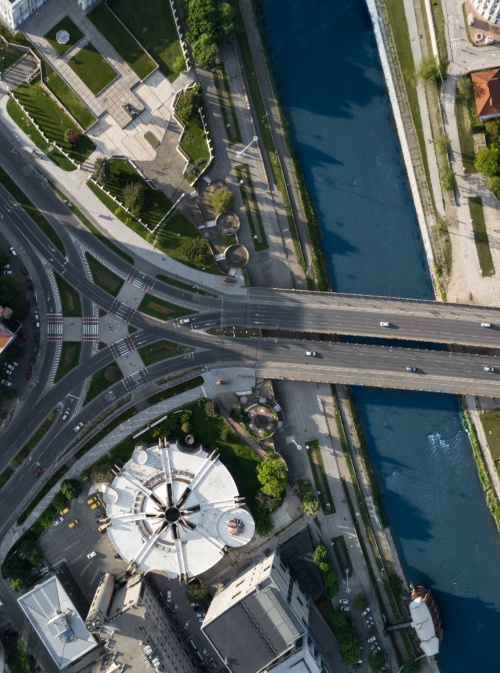 EU and EBRD to finance road section from Skopje to the Kosovo* border
04-07-2022
The European Union and the European Bank for Reconstruction and Development (EBRD) are financing a new motorway section in North Macedonia, from the capital Skopje to Blace Interchange, close to the border with Kosovo. The new road will provide faster and easier connections for trade and citizens.
An EU investment grant of €20.8 million, as well as €8.8 million in funding for technical cooperation to prepare, implement and supervise the works will be complemented by a €167.6 million loan from the EBRD to construct the motorway.
The strategic road section will improve links in the region and on to the European Union. It is part of a transport artery from Skopje to Kosovo's capital, Pristina, which has seen increased traffic volumes in recent years, and a larger European road network connecting Sweden to Greece through the Western Balkans.
The new dual two-lane motorway will run parallel to the existing A4 national road, a single carriageway constructed more than 50 years ago. This will lead to significant traffic and road safety improvements. It is also expected to have a positive impact on employment through enhanced connectivity and economic integration within the region.
Ambassador David Geer, Head of the EU Delegation to North Macedonia, said: "Through the WBIF and with the support of EBRD, we are putting the Connectivity agenda on track. A globally connected Europe is beneficial for the economy, but also for the economies and for the growth of the accession countries. Supporting the transport connectivity in the region is a major opportunity for further advancement of trade relations and for stronger regional economic development."
The Bank will mobilise technical cooperation funding to support the Ministry of Transport and Communications in developing a national e-mobility strategy and action plan fully dedicated to promoting the rollout of an electric vehicle fleet and infrastructure in the country. The project will also demonstrate an innovative construction contract structure, which will incorporate climate resilience measures.
Susan Goeransson, EBRD Director, Infrastructure Europe, said: "This project is one example of the Bank's work to improve both the transport and municipal infrastructure in North Macedonia. It will have a tangible impact on people's everyday lives, as well as trade activities across the region and with the EU. We are happy to take the next step in this journey to support the Public Enterprise for State Roads by financing this vital road section together with our key partner, the European Union."
---
More about the WBIF project Orient/East-Med Corridor: North Macedonia – Kosovo Road Interconnection, Blace – Skopje (Stenkovec Interchange) Motorway Section