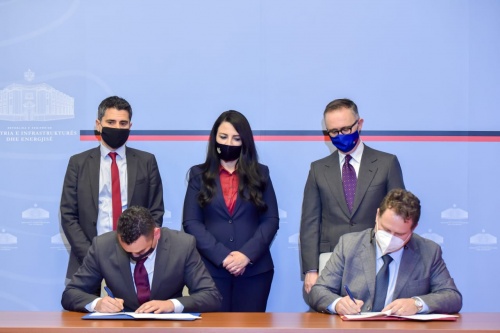 EU and EBRD Support Rehabilitation of Tirana - Durres Railway in Albania
04-02-2021
The first large-scale overhaul of the railway network in Albania is ready to start with the signing of a contract for rehabilitation works between the state railways and the Italian company INC Spa. This project is supported by the European Union with an investment grant of €35.5 million under its 'Connectivity Agenda for the Western Balkans' and by the European Bank for Reconstruction and Development (EBRD) with a €36.9 million loan. Additional €2.75 million in grants from bilateral donors have been secured through the Western Balkans Investment Framework. The railway section in Albania is an extension of the Mediterranean Corridor, a part of the Trans-European Transport Network (TEN-T).


Under the contract more than 34 km of the existing railway track between the capital Tirana and the port of Durres will be rehabilitated. Additionally, a new 7.4 km-long rail track connecting Tirana city to the Tirana International Airport will be constructed. The rehabilitation will allow for safer and faster travel compared to the current average of less than 60 km per hour. The travel times will be significantly shorter - it will take 22 minutes from Tirana to the Durres port, and only 12 minutes to Rinas airport.
Video on Tirana - Durres railway (c) EU Delegation Albania
Andrea Vera, Head of the Sustainable Economic and Social Development Section at the EU Delegation in Albania, said: "Investing in infrastructure is necessary to improve connectivity within the Western Balkans and with the EU. Albania needs to undertake the necessary reforms to ensure the integration of transport markets."
Matteo Colangeli, EBRD Head of Albania, said: "This strategic infrastructure project will make a tangible difference to people and businesses in Albania and across the region. It will improve people's daily lives and unlock new trade opportunities. As the first investment in the rehabilitation of the railways network in Albania, the project will also contribute to the long-term goal of building green, sustainable and integrated economies in the Western Balkans."
Belinda Balluku, Minister of Infrastructure and Energy, said: "This is one of the priority projects for boosting the economy and connectivity of Albania. It is identified as such in our national strategic documents as well as in the EU's Connectivity Agenda. The project will be implemented in line with the EU environmental standards and will significantly contribute to the creation of new jobs."
The project is identified in the Economic and Investment Plan for the Western Balkans within the Investment window "Sustainable Transport" as the Flagship 3 "Connecting the Coastal Regions". The Rail Route 2, linking the capitals of Tirana and Podgorica, Montenegro, and extended to the port of Durres, is a key project for the region and will be enhanced through the rehabilitation of 120 km of railway line in Albania towards the border with Montenegro.

More about the project Mediterranean Corridor (Rail CVIII): Rehabilitation of Tirana - Durrës Railway Line and Construction of New Line to Rinas Branch
More about WBIF activities in Albania
More about Connectivity Agenda
More about the Economic and Investment Plan for the Western Balkans 2021-2027