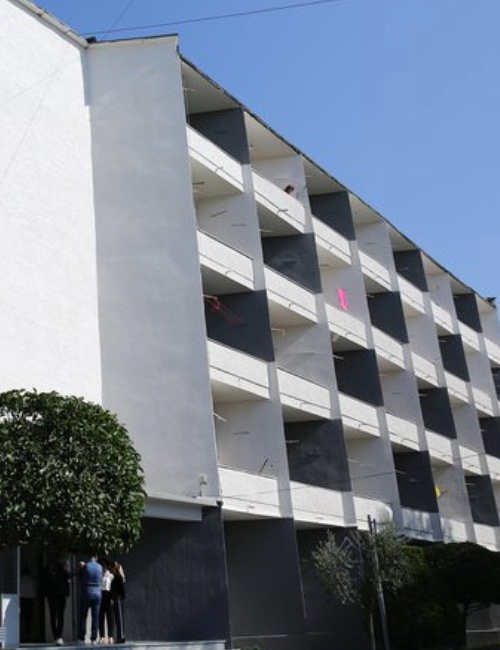 EU and Germany Support Improvement of Student Dormitories in Albania
Through the EU-supported Regional Energy Efficiency Programme for the Western Balkans (REEP/REEP Plus), 19 student dormitories in Tirana University campus area, will undergo energy-efficiency renovation based on structural energy audits, and at least three new buildings will be built.
The project is part of the Student City I Masterplan and has been made possible thanks to a €4.78 million grant from the European Union through the Western Balkans Investment Facility (WBIF) and €21 million (investment loan plus grant for technical assistance) by the German Federal Government through the KfW Development Bank. These funds add to the €9.4 million in grant funds committed through the KfW before 2021.
The agreement for this investment was signed on 3 November by the Minister of Finance and Economy of Albania, Delina Ibrahimaj, and the Director of the KfW Office in Tirana, Brit Horschke.
Purposes of the project:
- Increase the energy efficiency of selected public buildings - Electric energy consumption will decrease by an average of 20% compared to consumption levels before rehabilitation. The 3 newly constructed dormitories will have a nearly-zero energy buildings (NZEB) standard.
- Promote social infrastructure for underprivileged students - A minimum of 70% of the capacity of the rehabilitated dormitories will be occupied by students with an inflation-adjusted income of less than €108.

The WBIF project Regional Energy Efficiency Programme for the Western Balkans (REEP/REEP Plus), is implemented by the European Bank for Reconstruction and Development (EBRD), the Energy Community Secretariat (EnCS), bilateral donors and the KfW on behalf of the German Federal Government. The REEP Plus comprises four components: in addition to the promotion of political exchange and interim financing, these are loans for the private sector and public administration. KfW is active in the latter two areas. So far, 597 projects have been promoted under REEP with a wide range of projects being financed, from the energy-efficient refurbishment of outdated production facilities to the purchase of modern tractors or combine harvesters in agriculture to the installation of energy-optimised heating systems in public buildings. As a result, energy in the amount of 51,000 MWh per year could be saved and greenhouse gas emissions of 15,000 tonnes per year were avoided.
The REEP/REEP Plus is identified in the European Commission's Economic and Investment Plan for the Western Balkans as one of the Flagship projects within the "Renovation Wave" under the Investment window "Clean Energy". These projects contribute significantly to the reduction of greenhouse gas emissions, and improve the living standards and health of citizens.

More about the WBIF Activities in Albania
---
Photo credits (c) EU Delegation to Albania