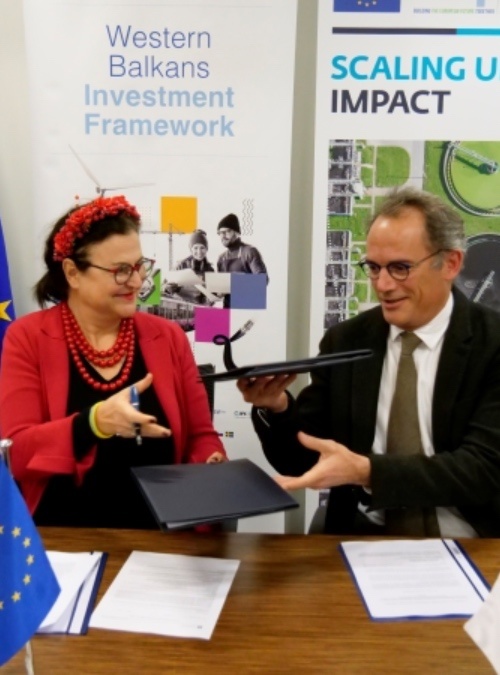 EU and IFC sign the 1st of a series of EU Economic and Investment Plan projects
20-12-2022
On 19 December, Katarína Mathernová, Deputy Director-General in the European Commission's Directorate-General for Neighbourhood and Enlargement Negotiations and chair of the Western Balkans Investment Framework (WBIF), and Alfonso Garcia Mora, International Finance Corporation (IFC) Vice President for Europe, Latin America and the Caribbean, signed the Eco-Industrial Parks project, the first IFC led project implemented through WBIF.
The Eco-Industrial Parks project aims to help advance de-carbonisation and improve resource efficiency of industrial parks across the Western Balkans. Preliminary diagnostic will be followed by targeted implementation of four pilot projects in industrial parks across Serbia, Bosnia and Herzegovina, North Macedonia, Montenegro, Kosovo, and Albania.
Katarína Mathernová, at the signature ceremony, said: "Today's signature marks an important achievement. It formally consolidates the partnership of the European Commission and IFC in the Western Balkans through WBIF and creates opportunities for public and private investments to facilitate the energy transition of highly contaminating business parks."
Alfonso Garcia Mora said: "We are proud of our strong partnership with the EU in the Western Balkans. This is a region where we see tremendous potential to accelerate economic growth and improve people's lives by helping crowd in the private sector. Our projects under this partnership will help create investment opportunities in the region, boost competitiveness and increase resilience to the impacts of climate change."
IFC, together with the World Bank, is the latest international financial institution to join WBIF, creating a partnership of critical importance to support private sector activity in the region, addressing urgent development issues, creating jobs, and ensuring long-term sustainability. Other projects in the pipeline aim to mobilize guaranteed financial instruments for creditworthy agribusiness clients, enabling much-needed sector modernization, digital transformation and help improve climate related capacity of financial intermediaries, allowing them to expand their outreach to micro, small, and medium enterprises (MSMEs).
More about the WBIF Endorsed flagship investments here

About IFC
IFC - a member of the World Bank Group—is the largest global development institution focused on the private sector in emerging markets. We work in more than 100 countries, using our capital, expertise, and influence to create markets and opportunities in developing countries. In fiscal year 2022, IFC committed a record $32.8 billion to private companies and financial institutions in developing countries, leveraging the power of the private sector to end extreme poverty and boost shared prosperity as economies grapple with the impacts of global compounding crises. For more information, visit www.ifc.org.