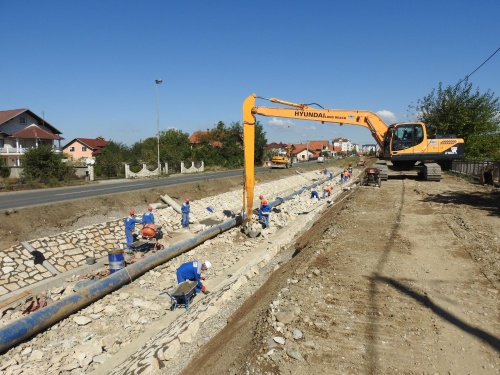 EU-funded Technical Assistance for Flood Risk Management Project in Republika Srpska, BiH, to be completed in November 2018
10-10-2018
€4 million in European Union grants loans were allocated for technical assistance support to improve flood prevention and management after the floods in 2009 and 2010, in Bosnia and Herzegovina. The project initiated by assessment of more than 100 hotspots along the Sava River and its tributaries. Flood protection measures were prioritised and classified into emergency, short-term and mid-term measures.
The European Commission provided technical assistance over €4 million through the Western Balkan Investment Framework (WBIF) and additional grant support was made available, through WBIF over €750,000 for the third phase of this project.
The EIB provided the first loan over €55 million in 2012; a second one over €19 million funding a continuation the project is currently under appraisal. So far, 27 construction contracts have been signed adding up to €45.6 million and in total, including this extension, the total project value will reach €104 million.
In addition to the direct benefits of flood management, the investments implemented under the project have improved the performance and reliability of the flood mitigation-protection system in the Republika Srpska and have had strong positive economic, social, environmental and public health impacts. The quality of life in 30 municipalities and surroundings, home of 700,000 inhabitants, has been improved and the risk of floods significantly reduced, thus preventing serious human and material damage.
To ensure mitigation and improved management of floods in Bosnia and Herzegovina, the EU and bilateral donors to the Western Balkans Investment Framework, overall have allocated more than €13 million in grant support so far, leveraging more than €130 million in investments. This has helped people rebuild their lives after the floods in 2010 and 2014 and contributed to protecting more than 3.4 million citizens of Bosnia and Herzegovina from future floods.
Assistant Minister of Agriculture, Forestry and Water Management of Republika Srpska, Cedomir Stojanovic emphasised: "Through these measures and Drina embankment, we will finally have a stable and functional system of flood risk management".
Additional information: