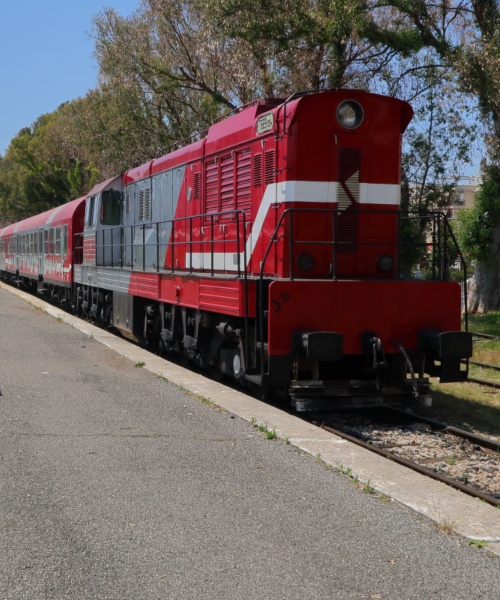 EU-funded Technical Assistance for the Rehabilitation of the Durres – Rrogozhina Railway Section in Albania
The development of railways in Western Balkan beneficiaries takes an important part in of European Union's Economic and Investment Plan for the Western Balkans, as it does for all countries in European Union. Indeed the first three Flagships of this Plan have important railway components. Therefore, the European Union finances the project "Rehabilitation of the Durres – Rrogozhina Railway Section in Albania" with a budget of €1.7 million which will meet European standards, increase train speed, and improve travel safety particularly at level crossings. Flagship 3 (Railway line Podgorica – Tirana) is linked in Durres to this railway section.
As part of the project that began in February 2020 the Detailed Design, the Environmental and Social Impact Assessment and the Tender Documents were prepared for the rehabilitation of this 33.5 km long railway section. The aim of this project is to contribute to the rehabilitation of the Pan- European Railway Corridor VIII in the territory of Albania, leading to improved transport connectivity and safety, reduction of road traffic congestion, decrease of transit traffic in cities and reduction of pollution and Green House Gases due to emissions from road traffic. The maximum design speed is 120 km/h. Four new railway stations will be created at Golem, Kavaja, Lekaj, Rrogozhine and one new stop at Plazh, serving the Albanian Riviera.
In addition to being part of Corridor VIII, this section also constitutes the sole rail link between the West and East parts of Albania linking Durres with Elbasan and Pogradec. A branch line provides link to southern cities of Fier and Vlora. Another planned branch line at Lin will provide access to North Macedonia.
The study is financed by European Union through the Western Balkan Investment Framework (WBIF) in cooperation with the European Investment Bank (EIB) that is also the lead International Financing Institution and potential lender for the implementation of the project. The Feasibility Study for the entire railway line and this specific section was prepared by another grant of WBIF that amounted to €0.72 million.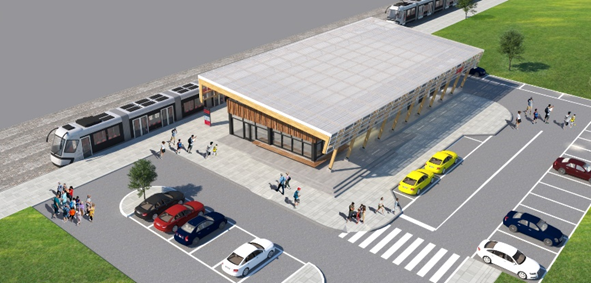 New station design (c) IPF8
The results of the study were presented in the closing workshop of the project that took place in a hybrid meeting (physical and virtual) on 6 October 2021 in Tirana, at Tirana International Hotel. The purpose of the meeting was to inform all interested stakeholders and the wider public, on the way to implementing this project, the budget for which is €76 million.

Video on Tirana - Durres railway (c) EU Delegation Albania
Erjola Muka, Ministry of Infrastructure and Energy of Albania: "Rail transport is a priority for Ministry of Infrastructure and Energy who is accelerating the development of the transport system in Albania (road, rail and maritime) to be integrated into the TEN-T network. The vision of Albania is fully compliant with the priorities of the European Union. This project is considered a priority for the Government of Albania as it is part of Corridor VIII and will provide a connection to North Macedonia and Bulgaria. Durres – Rrogozhina rail section should update its status from the comprehensive to the core network and in this way, ensure the financing of the project implementation. Due to the successful finalization of the Detailed Design, this railway section is now mature for implementation. I thank EIB as the lead IFI for their support."
Alessandro Bragonzi, EIB Head of the Regional Representation: "EIB will in the future support the realization of railway projects. The goal is to have projects compliant with EU social and environmental standards and reach long-term positive impacts. EIB has invested over 649 million euros for railway projects in the Western Balkans and worldwide, in 2020, more than €4.5 billion. I thank all contributors for the successful finalization of this project."
Sulka Entela, EUD Albania: "I congratulate the team and Albanian institutions for successful completion of the project, which is part of Albania's transport system supported by the EU. I encourage the Ministry to proceed with the rail reform and prioritize the rail sector."
More about the WBIF project 'Comprehensive Network: Rehabilitation of Durrës - Pogradec - Lin Railway Line and Construction of Lin - Border with North Macedonia Line on Corridor VIII'
More about the WBIF activities in Albania