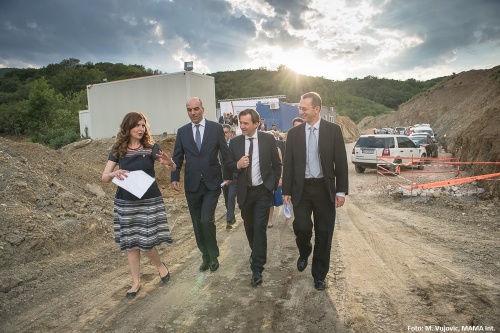 Ground Broken on the Trans-Balkan Electricity Corridor Section in Montenegro
10-07-2016
Site preparation works for the construction of a new 400 kV transmission line from the Adriatic Coast to the Montenegro border with Serbia commenced last week.
The project contributes to the establishment of a Western Balkans regional electricity market through the creation of a 400 kV transmission corridor between Montenegro, Serbia and Bosnia and Herzegovina, also known as the Trans-Balkan Electricity Corridor. The corridor would be further linked to the European Union via the Italy – Montenegro submarine cable which is due to be completed by 2017.
The European Commission, together with KfW Development Bank and the European Bank for Reconstruction and Development, provided €3.5 million financial assistance for project identification and preparation of the Montenegro section, under the Western Balkans Investment Framework. The European Union further supported the financing of the works under the 2015 Connectivity Agenda, through a €25 million grant. The financing agreement for the latter was concluded on 6 July 2016.
More details on this project may be found here.
Caption: Visit on the project site, 6 July 2016. From left to right: Leda Minic - Assistant of Executive Director for Investments, Montenegro Electricity Transmission Company, CGES a.d.; dr. Vladimir Kavaric - Minister of Economy, Montenegro; Roland Siller - KfW Director-General for Europe and Asia; Andre Lys - Head of Cooperation Section, Delegation of the European Union to Montenegro. Date: 6 July 2016. Photo Credits: M. Vujovic, MAMA Int.