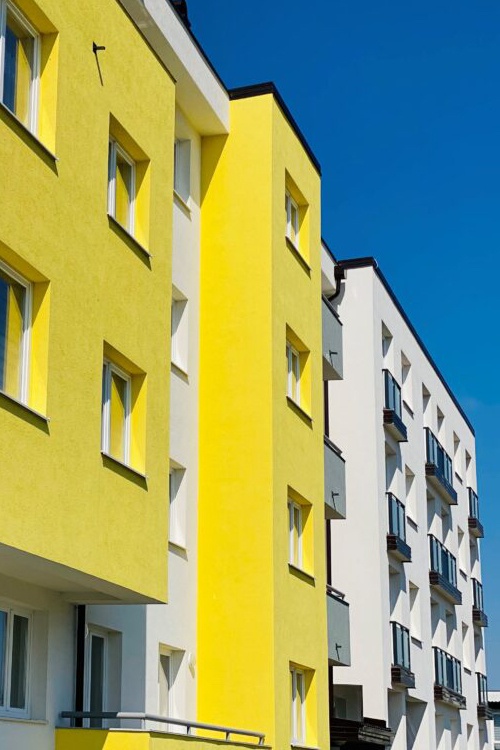 New Home for 62 Displaced Families in Srebrenik, Bosnia and Herzegovina
09-04-2021
Earlier this week, the keys to 62 newly built apartments in Srebrenik, Bosnia and Herzegovina, were handed to 164 displaced persons, former residents of the collective centres. The construction of the multi-apartment building is part of the larger EU supported project "Housing and Social Integration of Vulnerable Persons Living in Collective Centres", implemented by the Ministry of Human Rights and Refugees of Bosnia and Herzegovina.
The total value of the project is €107.6 million, with financing secured by the Council of Europe Development Bank (CEB) through a €60 million loan, complemented by €1.8 million in grants provided by the European Union and Western Balkans Investment Framework Bilateral Donors, and by a €3.9 million grant provided by the CEB from its trust funds, including bilateral donations from Spain, Norway, Italy and the Slovak Republic.
Within the project, the collective centres are being closed, and an adequate accommodation is provided for 7,200 people, through the construction and rehabilitation of 82 buildings in 45 municipalities and cities throughout Bosnia and Herzegovina.
So far, 540 housing units have been completed and 423 beneficiary families moved in social housing units in 17 sub-projects, following the closure of eight collective centres and alternative accommodation locations. These housing solutions are provided to beneficiaries based on social, not-for-profit rental housing model or within institutional accommodation (welfare) centres.
The 1990s conflicts in the former Yugoslavia led to the displacement of more than 1 million people within the borders of Bosnia and Herzegovina. At the end of 2011, some 113,000 were still displaced, out of whom some 8,500 lived in collective centres and alternative temporary accommodation. Many of those were unemployed, elderly, ill, or otherwise socially vulnerable.
Mr Edin Ramić, Minister for Displaced Persons and Refugees in Federation of Bosnia and Herzegovina, said: "The FBiH Government with the support of the EU and its partners continue with the construction of the housing solutions in different stages of implementation. We can already announce the start of construction of another 79 housing unit in the municipality of Kalesija, due to begin in a few months."
Mr Nihad Omerović, Mayor of Srebrenik, said: "This project has been successfly implemented through a close cooperation of all the stakeholders involved - the Ministry, municipality and our international partners."

Delivery of keys in Srebrenik (c) FENA
---
More about the delivery of keys in Srebrenik
More about the WBIF project "Housing and Social Integration of Vulnerable Persons Living in Collective Centres"
More about the WBIF Activities in Bosnia and Herzegovina