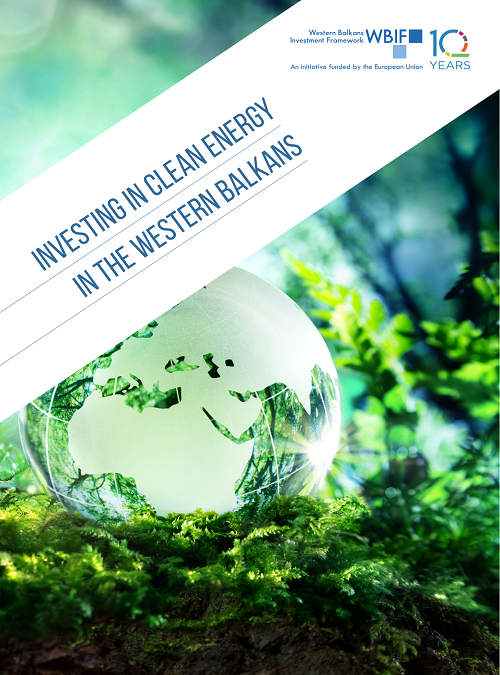 New WBIF Publication: Investing in Clean Energy in the Western Balkans
13-01-2020
Energy Efficiency (EE) and Renewable Energy (RE) have long been a focus for technical assistance and investment within WBIF, resulting in a number of landmark initiatives and projects. Over the years, EE has become a key pillar in the Western Balkans national energy strategies and more recently, the Western Balkans started developing their RE potential beyond hydropower. Substantial projects, primarily in wind and solar PV, are now being built or commissioned in the region.
Since 2011, WBIF has produced a regular and well-received publication on EE. It was initially focussed on listing dedicated available financing facilities and on providing recommendations on how to improve such facilities. The 2017 edition was substantially restructured and its content enriched with discussions of the regulatory framework and of salient policy issues, a review of the dedicated finance and technical assistance providers as well as a first attempt at producing reliable figures on how much EC-supported facilities were being used and how much they contributed to national EE achievements.
With the fourth edition of the publication, its coverage has been broadened again to include RE as well, making it a truly Clean Energy publication. It covers regular features such as a review of the regulatory framework and of cooperation mechanisms, a review of existing facilities, and statistical data on 2007-2018 achievements, now for both EE and RE. This edition also discusses RES and Energy Transition in the region, and Financing Public Sector EE investment. Further, it includes a new Country Focus section, starting with North Macedonia, where a surge in RE is coming.
This latest edition was prepared and produced by the Infrastructure Project Facility 7 (IPF7). The printed version was released at the 21st WBIF Steering Committee meeting in London on 16-17 December 2019. The electronic version is available for download here.