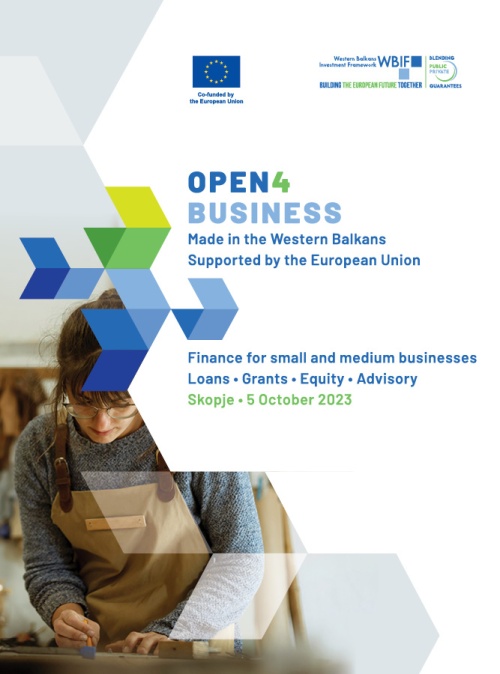 Open4Business is open for registration
28-09-2023
Are you a small business owner in the Western Balkans? Keen to expand your horizons and make more impact? Join us for a regional information event that promises to shed light on financial opportunities for micro, small, and medium-sized enterprises (MSMEs).
Western Balkans Open4Business
"Open4Business - Made in the Western Balkans - Supported by the EU" is a dedicated event for MSMEs in the Western Balkans to learn more about financing opportunities, including from the European Union available through the Western Balkans Investment Framework (WBIF).
Supporting the development of a robust private sector, boosting competitiveness and creating jobs in the region are key objectives of the Economic and Investment Plan for the Western Balkans, the recovery plan for the region put in place in 2020 by the EU and endorsed by the Western Balkans' partners.
Significant investments support small businesses, particularly in areas such as green investments and technologies, microfinancing, energy efficiency, renewable energy projects, sustainable agriculture, circular economy, eco-tourism, and enterprises led by women and young people.
Discover Your Path to Growth
During the morning session of the event, you will gain insights into accessing financing in the form of loans, capital, investment incentives and technical assistance, as well as advisory services offered through the WBIF by renowned international financial institutions and through their local financial partners.
Does your business support the green transition? The 'Green for Growth Fund' offers opportunities to finance energy efficiency and renewable energy ventures. MSMEs that hire or train young people aged between 15 and 30 can benefit from the Youth Employment Guarantee Facility, with loan guarantees of €10m. Ready to grow your business in EU markets? Sharpen your competitive edge with the SME Competitiveness Support Programme. It empowers SMEs in the Western Balkans to meet EU environmental protection, occupational health and safety, and product quality and safety standards.
These are just some of the 10 active programmes that blend grants and loans, or provide guarantees through the Western Balkans Guarantee Facility. Hear first-hand experiences during the morning from MSMEs who have already harnessed these opportunities to thrive.

Tailored Guidance for Your Success
In the afternoon session, MSMEs will have the opportunity to engage in face-to-face or online pre-arranged 'matchmaking' meetings with local financial institutions across the region's capital cities. These sessions are designed to provide you with personalised guidance on applying for the most suitable programmes.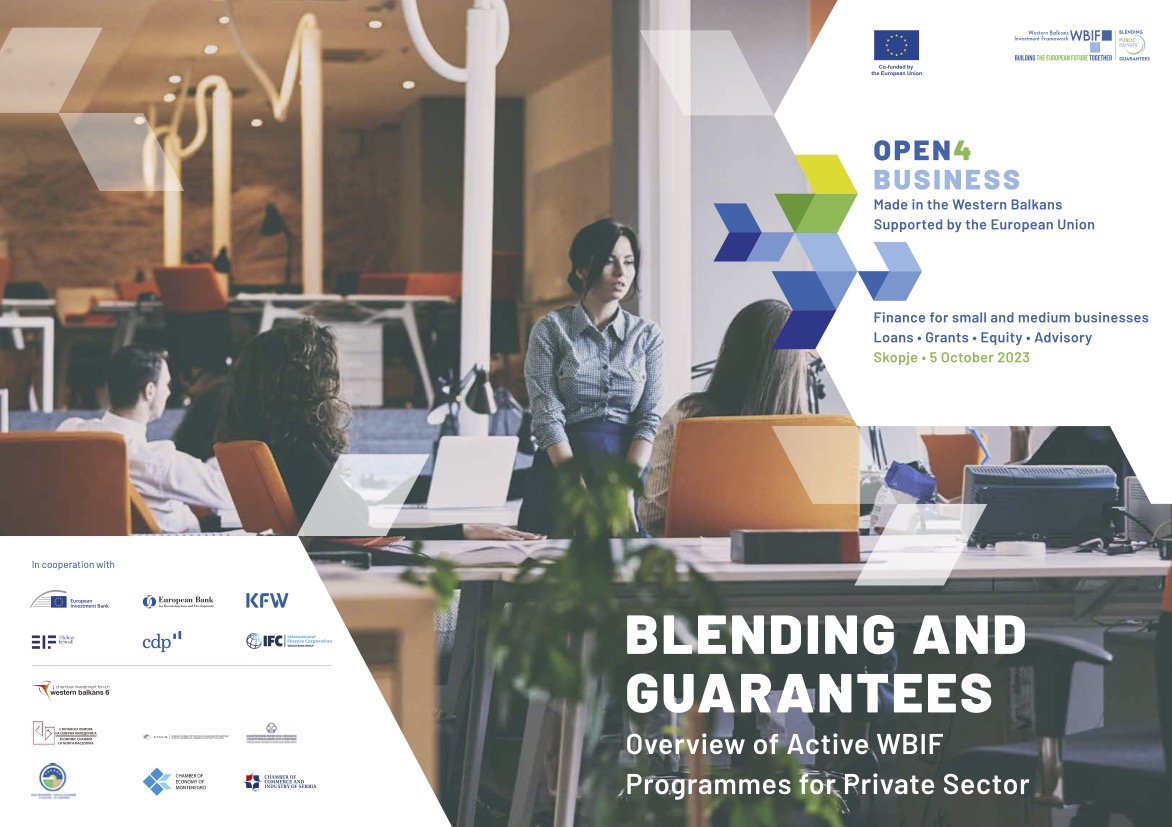 Participate live, remotely or online
Organised by the European Commission's Directorate General for European Neighbourhood and Enlargement Negotiations (DG NEAR), in collaboration with the Economic Chamber of North Macedonia and the Western Balkans 6 Chamber Investment Forum (WB6CIF), the morning session of the event will be held live in Skopje, remotely in the other five capitals of the Western Balkans, and accessible online. There are multiple ways to participate and maximise your networking opportunities.
If you cannot be present in Skopje, you can follow the morning session remotely with the Chambers of Commerce in the other regional capital cities, together with your peers.
The afternoon session will take place concurrently, in all six capitals, so you can book a slot to discuss with your local financial institutions in one of the six regional venues.
And if you cannot make it to any of these venues, you can still follow the event and book a consultation with your preferred financial institutions using our on-line event platform.


Don't Miss Out - Register Today!
Participation in this event is free of charge. To secure your spot, kindly register by 4 October through this link.
For more information, please consult the event agenda.


---
Practical information
Open4Business - Made in the Western Balkans - Supported by the EU
Date: 5 October 2023
Main venue: Hotel Aleksandar Palace, Bul. 8mi Septemvri br. 15, 1000 Skopje, North Macedonia

Regional venues:
• Tirana, Europe House (Papa Gjon Pali II Street).
• Sarajevo, Foreign Trade Chamber, (Branislava Đurđeva 10)
• Pristina, Chamber of Commerce, (Str. Nena Tereze Nr. 21)
• Podgorica, Chamber of Economy, (Novaka Miloseva 29/II)
• Belgrade, Chamber of Commerce, (Resavska 13-15).

Online platform https://open4business-made-in-western-balkans.b2match.io/

Watch promo video https://www.youtube.com/watch?v=17_k6mrK1Sw&t=1s

Factsheet with executive summaries here