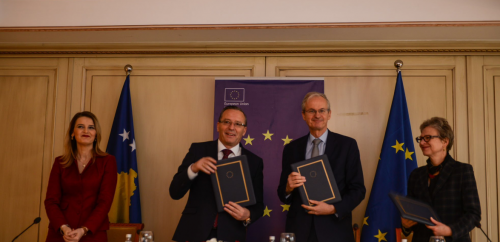 Signature of the First Connectivity Agenda Grant for Kosovo*
15-02-2018
Bedri Hamza, Finance Minister of Kosovo, Christian Danielsson, Director General for Neighbourhood Policy and Enlargement Negotiations in the European Commission, and Charlotte Ruhe, EBRD Managing Director, Central and South-Eastern Europe sign the Grant Agreement for Phase I Rehabilitation of Rail Route 10.
The €38.5 million EU grant is one of the first approved under the Connectivity Agenda in 2015. It will cover 50% of the works and supplies associated with the rehabilitation of 64 km of railway track between Fushë Kosovë/Kosovo Polje and the border with North Macedonia.
The project has also benefited from €4 million grant from the EU, WBIF Bilateral Donors, and EBRD to cover the preparation of design, tender documents, project management and the supervision of works, as well as capacity building. In addition, the EU has provided €0.5 million in grant for the preparation of the feasibility study along the entire Route 10.
The tender dossiers for Phase 1 are now complete and construction could hence start in the last quarter of 2018 and be finalised by the end of 2021. Once complete, the project will ensure secure and efficient rail transport for approximately 50% of the population of Kosovo.
On the occasion of the grant signature, Kosovo, European Commission, and EBRD signatories maintained:
Minister Hamza: "We are grateful for the significant contribution the EU is making through the Western Balkans Investment Framework to this crucial project for our country. This is not only important financially but also a signal of the trust, commitment and confidence the EU, the EBRD and our international partners are putting in us. Improving connectivity and augmenting our links with the rest of the world is the way forward for Kosovo."
Director General Danielsson: "We are with Kosovo in deeds and not only in words. This is why the European Commission, on behalf of the citizens of the EU, has provided this grant to Kosovo through the EBRD so that the people in Kosovo get a significant improvement in the railway connection with their neighbours and the rest of Europe."
EBRD Managing Director Ruhe: "The modernisation of transport infrastructure is one of the EBRD's key priorities in the Western Balkans, helping to improve trade routes within the region, build well-integrated economies and develop stronger cross-border cooperation as well as improve people's lives in Kosovo by offering better connectivity with the region and wider Europe."
More details on the grant signature event can be found here. Additional information on the project can be found here.
*This designation is without prejudice to positions on status, and is in line with UNSCR 1244/1999 and the ICJ Opinion on the Kosovo declaration of independence.