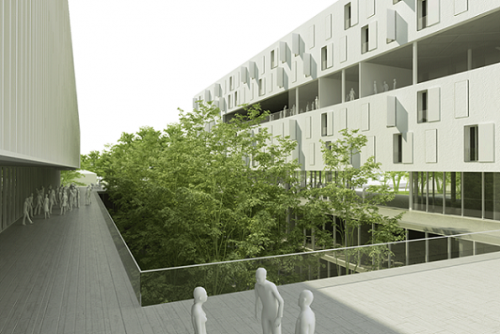 Start of the WBIF Technical Assistance for the University of Zadar
15-07-2019
On 8 July 2019, a new EU-funded technical assistance project was launched under the WBIF to assist the University of Zadar with the preparation of the technical documentation for securing the building permit and procure the construction works for an innovative multi-purpose building on the University's new campus.
The new building will provide teaching and research facilities in one wing and student accommodation facilities in another. Both wings will be connected by two underground levels, partly opening on a sunken green area. This concept will encourage co-working and better associate students with University activities and eventually promote their integration on the campus ground. The building will be designed with energy performance in mind, and it is anticipated that more than 60% of energy requirements will be provided by the renewable energy sources, including heat pumps and solar power system.
The project Zadar University: New Campus and University Learning Resource Centre has been jointly supported by the WBIF Bilateral Donors and the EU through a €2 million grant for the development of the new campus. This latest technical assistance is implemented by the Infrastructure Project Facility 7 and the European Investment Bank as Lead IFI from July 2018 until September 2020. The conclusion of this assignment in September 2020 will bring WBIF's activities in Croatia to final closure.
The project started in 2011 when the University initiated a regrouping of its facilities, scattered across 14 locations within Zadar. Lack of space and equipment were constraints for both the expansion into new fields of science and maintaining high-quality teaching in the existing areas of expertise. The beneficiary sought WBIF support for the feasibility study and preliminary designs for the new campus as well as assistance with preparing the investment grant application for EU Regional Development Funds. The first WBIF grant was allocated in 2011 and was completed by Infrastructure Project Facility 3 in September 2018. A follow-on grant was awarded in 2013 to ensure continuity on this project over Croatia's EU accession and help develop the buildings selected in an architectural competition in 2015. This latest grant is implemented by Infrastructure Project Facility 5 and Infrastructure Project Facility 7 under two separate components.
About the University in Zadar
The University of Zadar was founded in its current modern form in 2002. It can trace its lineage to 1396, thus making it the oldest tertiary education institution in Croatia and one of the oldest in Europe. The University is part of CONEXUS, a network of 6 European universities working together to create a European University for Smart Urban Coastal Sustainability. CONEXUS will contribute research and innovation to promote sustainable growth in marine and maritime environments. CONEXUS is one of the 17 European Universities recently selected for support in the first EU call for transnational alliances of higher education institutions from across the EU that share a long-term strategy.
Project images © SANGRAD Architects