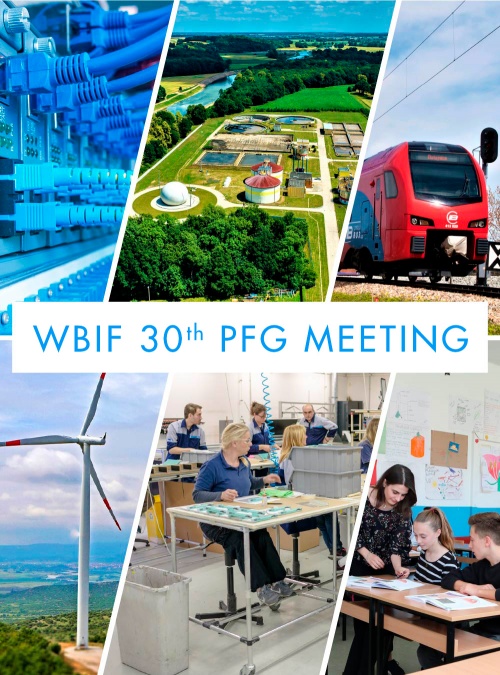 WBIF 30th Project Financiers' Group Meeting, Western Balkans Summit in Sofia
12-11-2020
The Western Balkans Investment Framework held its 30th Project Financiers' Group Meeting (PFG) virtually, on 10 and 11 November 2020. Over 100 participants from the European Commission, Financial Institutions (EIB, EBRD, CEB, KfW, WBG, AFD, EIF), Bilateral Donors, Western Balkans beneficiaries and the Energy Community Secretariat participated. The meeting was co-chaired by DG NEAR's Head of Unit Mr. Colin Wolfe and by CEB, Country manager for Western Balkans Mr. Vitomir Miles Raguz.
Participants at 30th PFG were informed about the recently adopted Economic and Investment Plan for the Western Balkans, which established policy priorities in the region for the upcoming seven year period, and earmarked a substantial investment package. The Plan identifies WBIF, including its private sector platform WB EDIF and the Western Balkans Guarantee Facility, as main vehicle to ensure the financial package swift deployment in partnership with Western Balkans partners, bilateral donors and international financial institutions. Participants were also informed about the state of play of WBIF transition to IPA III regulation and the Strategy and Action Plan for Tackling Implementation Delays in WBIF funded operations.
The 30th WBIF PFG agreed to submit 12 technical assistance grant applications (2 in the Digital, 1 in Energy, 3 in Environment, 5 in Transport and another 1 in the Social sector) for an amount of up to €12.9 million to the 23rd WBIF Steering Committee for approval, scheduled to take place on 10 and 11 December. The 'first instalment' of the Flagships Energy and Sustainable Transport, part of the recently adopted European Investment Plan, will also be submitted as part of the 2020 Connectivity Package.
This year Package consists of 6 Investment Grant Applications in the areas of sustainable transport and clean energy worth €129.3 million, which represents the 'final instalment' of the Commission's 2015 connectivity pledge of €1 billion. In addition, three Environment and one Social projects for a total grant consideration of €24.9 million were positively appraised and Bilateral Donors encouraged to consider financing them.
Simultaneously with the WBIF PFG, the Western Balkans Summit in Sofia took place, where Western Balkan leaders met (virtually) to further strengthen regional cooperation as a way to advance on the Western Balkan's European perspective. The region's positive response to the Economic and Investment Plan objectives, its partners' commitment to enhanced connectivity and endorsement of key initiatives such as the establishment of a Common Regional Market and the launch of a Green Agenda for the Western Balkans, together with a Youth Initiative will help accelerate the post-pandemic recovery by spurring sustainable economic growth.
More details on the WBIF PFG (agenda, presentations) can be found in the WBIF Library.
Economic and Investment Plan for Western Balkans and Guidelines for the implementation of the Green Agenda for the Western Balkans here.
Watch the WBIF Video on Road Corridor vc in Bosnia and Herzegovina here.
Western Balkans Summit Sofia – 2020 Connectivity Agenda Brochure here.