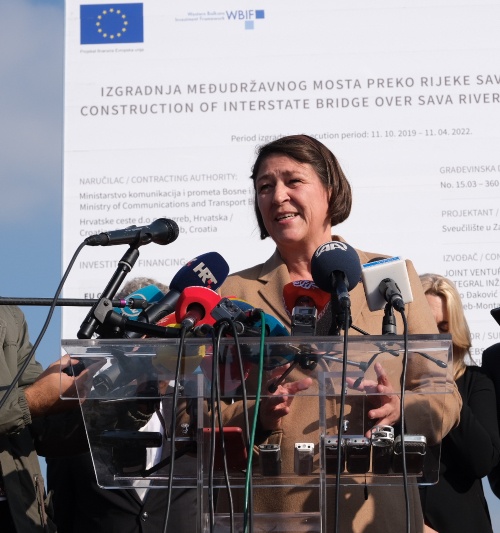 Works Commence on the 2015 Connectivity Project for Gradiška Interstate Bridge
11-10-2019
Works commence on the interstate bridge between Bosnia and Herzegovina and Croatia at Gradiška, with Commissioner Violeta Bulc, Ambassador Johann Sattler, and BiH Presidency Member Milorad Dodik in attendance. This is the second cross-border bridge over the Sava co-financed by the EU through the WBIF under the 2015 Connectivity Package.
The new bridge will be completed in 30 months and will ensure a vital transport link between Bosnia and Herzegovina, Croatia and the wider European road network. The EU has provided €6.8 million in grant to cover 18% of the costs, while the remaining is financed through a loan concluded with the European Investment Bank and the beneficiaries' joint contribution.
The investments will create more than 300 jobs during the construction and operation of the newly built facilities and will significantly reduce waiting times at the border. They are designed to facilitate trade, regional integration and sustainable growth and thus have a positive impact on the broader economy of the two neighbouring countries.
On the occasion of the start of works, Bosnia and Herzegovina and the European Commission maintained:
BiH Presidency Member Milorad Dodik: "The EU provides opportunities that are needed not only for communication but also for development of our economy, segments of our society and we will not give up on that".
European Commissioner for Mobility and Transport Violeta Bulc: "Better connectivity boosts economic growth and with it come new jobs, and in that way the competitiveness of the country increases. BiH has great benefits from the Connectivity Agenda, for which the European Union has approved over 215 million euros in grants for 13 projects in the transport sector".
Ambassador Johann Sattler, Head of the EU Delegation and EU Special Representative in Bosnia and Herzegovina: "The EU has so far allocated €880 million in grants for infrastructural projects for the whole region. Over a quarter of these funds goes to BiH, which contradicts the cliché that BiH is always in last place. In this regard, BiH is a frontrunner".
Short video on the event. (c) EU Delegation to BiH - EUSR
More details on the event can be found here. Additional information on the project can be found here.
Photo credits @ EU Delegation to BiH - EUSR.