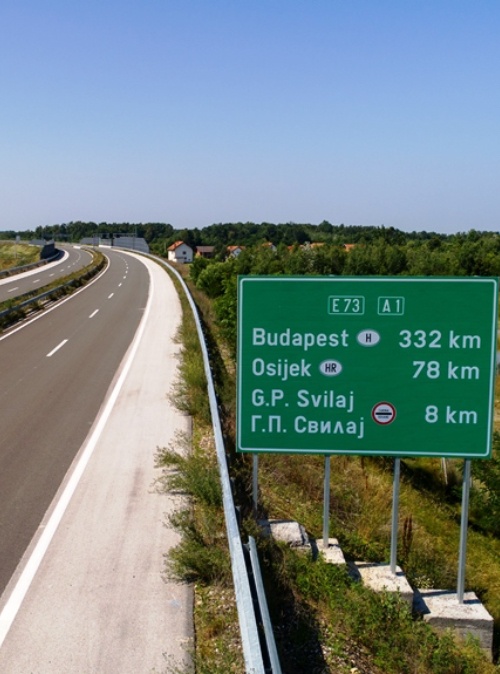 Works Commence on the EU-supported Svilaj Border Crossing Facility from BiH to Croatia
19-05-2020
Notwithstanding the numerous restrictions due to the Covid-19 crisis, the beneficiary (Indirect Taxation Authority) in Bosnia and Herzegovina succeeded to start the works for the construction of the state-of-the-art Svilaj border crossing on Corridor Vc.
The new border facilities, with four lanes at the entrance to BiH and three lanes at the exit from the country, will ensure a separation of passenger and freight traffic, and thus make border crossing with Croatia much more efficient.
The complex of the new state of the art Svilaj border crossing is planned to cover an area of more than 100,000 m2, consisting of a special facility for vehicle inspection, a vehicle scales and a large canopy. Facilities will be built to accommodate Indirect Taxation Authority staff, the BiH Border Police and inspection services, and a separate facility to accommodate freight forwarders and bank offices. The deadline for the completion of works is 300 calendar days.
Dr Miro Džakula, Director of Indirect Taxation Authority: 'This is an extremely important border crossing located in the north of Bosnia and Herzegovina on the Corridor Vc, connecting the country to the European Union.'
The border crossing facility is part of the 2015 Connectivity Agenda investment project 'Mediterranean Corridor (CVc): Bosnia and Herzegovina - Croatia Road Interconnection (Section Svilaj - Odžak)'. The project concerns also the construction of a 660 m cross-border bridge over the Sava river, as well as 10 km of motorway on the Svilaj – Odžak section between Bosnia and Herzegovina and Croatia, along the Mediterranean Corridor (CVc).
The construction of the bridge is in the final stages, with the test (trial load), horizontal signalling, technical inspection, obtaining use permits and the construction of the access road expected to be finalised in May.
The total investment cost of the project is €110m, financed by €25m in EU grants provided through the Western Balkans Investment Framework, €67m in loans from the European Investment Bank and the European Bank for Reconstruction and Development, in addition to €18m national contribution.
Photo gallery of the 'Bosnia and Herzegovina - Croatia CVc Road Interconnection, Svilaj - Odžak Section' here.
More about the WBIF project 'Mediterranean Corridor: Construction of Road Corridor Vc in Bosnia and Herzegovina' here.
More about the Connectivity Agenda Projects here.
Watch WBIF Transport Sector Video here.