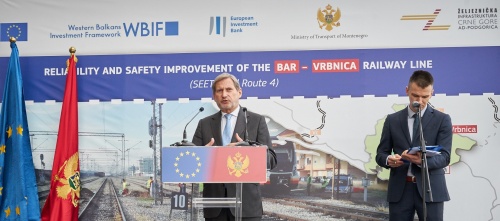 Works Commence on the Third 2015 Connectivity Project
09-02-2018
Works commence on the signalling and telecommunication systems in Podgorica Railway Station, with Commissioner Johannes Hahn and Prime Minister Dusko Markovic in attendance. It is the third 2015 Connectivity Project to start implementation in only two years since the approval of the WBIF financing, and the second to do so in Montenegro.
The project will deliver modern signalling and communication systems in and around Podgorica railway station as well as rehabilitate twenty-nine concrete bridges and twenty tunnels which are currently in urgent need of structural repairs. The EU has provided more than €20 million in grant to cover 50% of the costs, while the remaining is financed through a loan concluded with the European Investment Bank.
To date, the EU, through the WBIF and National IPA, has allocated more than €13 million to the preparation of concrete investment packages as well as urgent rehabilitation works along slopes in danger of landslides.
More details on the project can be found here.