The WBIF has successfully piloted the first renewables scheme in North Macedonia. The first phase of the wind park was completed in 2014 and currently generates 100 GWh per year, providing renewable energy for more than 16,000 households in the Bogdanci region.
Due to its favourable climatic conditions, Bogdanci was selected as the location of the first wind park in North Macedonia. In 2008, WBIF supported the development of the feasibility study of this renewable energy infrastructure; the conclusion of this document argued for the implementation of the investment in two phases. Phase I of the project was completed in March 2014 and has a capacity of 36.8 MW, which supplies green energy for approximately 16,000 households in the south of the country. Phase II is ongoing and will add 14 MW in electricity generation capacity to the existing facilities. This wind park proves that renewables are a realistic alternative to conventional energy sources and sets a precedent in North Macedonia that could attract private investments in green energy.
North Macedonia's energy sector remains in a transition stage characterised by limited private sector participation, insufficient and aging infrastructure, high reliance on fossil fuels – especially coal and lignite, low energy efficiency, often low energy prices and fragmented markets with limited cross-border trade. Under these circumstances, a steady power generation and supply cannot be guaranteed.
Currently, 30% of North Macedonia's electricity demand is covered from imports; therefore, the development of the wind park is crucial for demonstrating that other sustainable sources of energy can reduce the country's dependency on fossil fuels and energy imports. The southeastern part of North Macedonia has a large wind energy potential due to high regular average wind speeds; Bogdanci area is thus classified as a good inland wind site with a high probability of reaching the targeted annual production of electricity.
In this context, the pilot project at Bogdanci was developed with the support of WBIF and loans from KfW to initiate the process of diversifying the country's energy sources, thus showcasing that renewable energy can enhance the Western Balkans' energy security, as well as potentially attract private investors for the development of future wind parks. Following the completion of Phase I, the wind park at Bogdanci is currently producing approximately 100 GWh on an annual basis, which is equivalent to supplying energy to more than 16,000 households or approximately 65,000 citizens.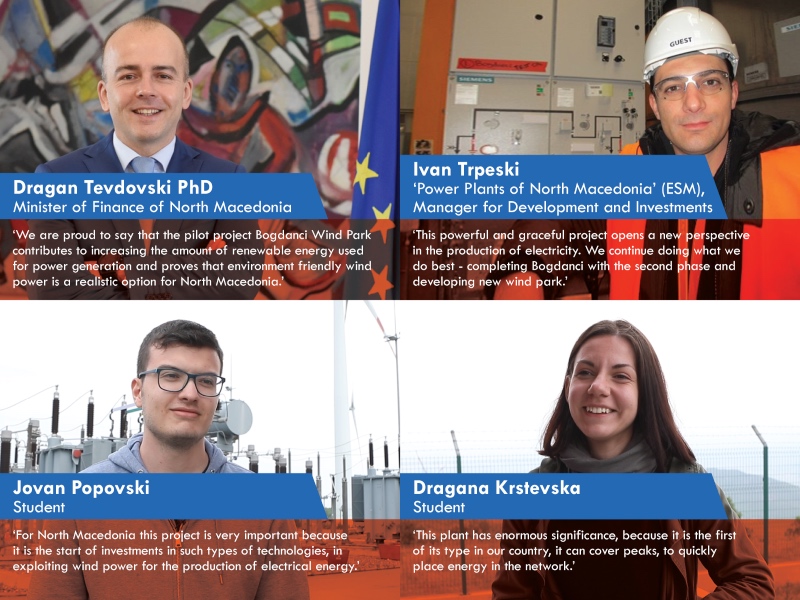 Project beneficiaries. (c) EU, ELEM
Project description
The Bogdanci Wind Park Pilot Project has increased the amount of renewable energy used for power supply in North Macedonia. The wind park is located in a carefully selected site following an extensive analysis of the results of measurement data and the wind flow simulation carried out for the most appropriate area. The WBIF-financed feasibility study, including a comprehensive environmental and social impact assessment, identified Bogdanci as the ideal location for the first wind farm in North Macedonia.
The construction of Phase I of the wind park was completed in 18 months and was financed by loans from KfW and the electricity generation company, ELEM (AD ELEM Macedonian Power Plants Elektranina Makedonija). This Phase entailed the installation of 16 wind turbines - with a combined capacity of 36.8 MW - and the construction of an 11 km long 110 kV transmission line, a substation and access roads which connect the wind park with the energy network.
The implementation of this pilot wind project in North Macedonia, which took less than six years from conception to operation, is one of WBIF's success stories. Currently, the Public Company ELEM is implementing the second phase of the project in order to increase the total capacity of the wind park up to 50 MW/123 GWh on an annual basis.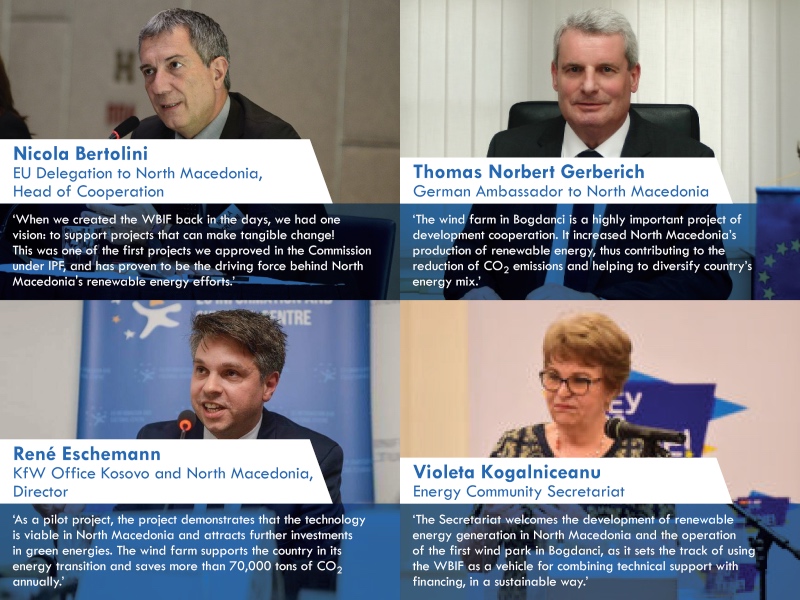 Stakeholders of the WBIF funded project. (c) EU, KfW, German Embassy in Skopje
---
Building the European Future Together
WBIF was jointly launched in 2009 by the European Commission (DG ELARG now DG NEAR), International Financial Institutions and Bilateral Donors to enhance harmonisation and cooperation in investments for the socio-economic development of the Western Balkans. Together with the Western Balkan beneficiaries, WBIF forms a unique partnership, defining priorities and support packages needed for strategic investments and institutional reform. WBIF contributes to the European perspective of the Western Balkans by supporting not only investment projects improving competitiveness and growth, but also by reinforcing regional cooperation and connectivity. Eligible sectors include digital infrastructure, energy, environment, social, transport, and private sector development through WBIF's dedicated initiative EDIF (Enterprise Development and Innovation Facility). This cooperation is only possible due to the close and coordinated interaction among the European Commission, International Financial Institutions and Bilateral Donors, together with the Western Balkan beneficiaries.
This year marks WBIF's 10th anniversary, and during the past decade over €1 billion in grants were allocated for preparation and implementation of infrastructure projects. Starting with 2015, around €200 million in investment grants per annum is allocated to the Western Balkan beneficiaries for the implementation of Connectivity Agenda. The EU grant channelled through the WBIF since inception, will support investment projects with an estimated total investment cost of €18 billion. The successful implementation of the EU grant have resulted in many tangible and intangible gains, including but not limited to: significantly reduced travel times; increased transport safety; reduced emissions; improved quality of life and urban environment; better learning conditions; and increased competitiveness, etc.
Some of the concrete benefits of the infrastructure projects supported by WBIF will entail:
Construction or rehabilitation of 800 km of roads;
Refurbishment or construction of approximately 1,000 km of railway lines;
40 MW of new electricity generation from renewable energy resources (sufficient to supply the energy needs of a medium sized city);
Access to clean drinking water for around 1 million people;
Refurbishment and construction of 24 healthcare and over 80 educational facilities.
Besides physical infrastructure, these investments will reduce existing barriers making the horizon of European accession visible and obtainable.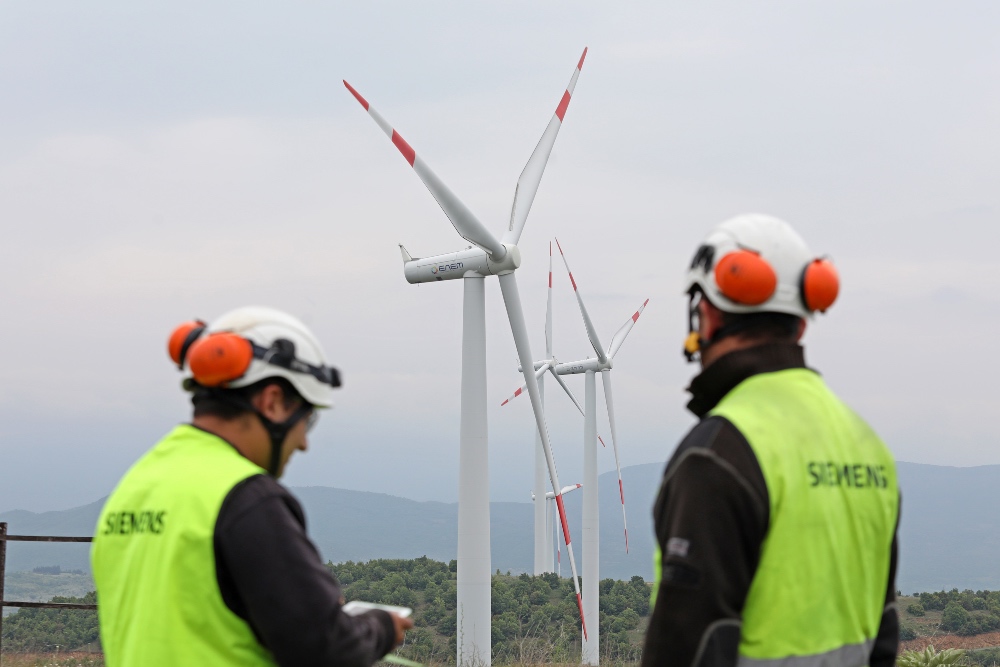 Bogdanci Wind Park Pilot Project. (c) EU
'Bogdanci is a small, typical town in the southern part of the country. There is one thing, making it very different. It has the first wind park in the region.'
Nevenka Jakimova-Filipovska, Project manager, ELEM
WBIF 10th Anniversary Video. (c) EU


Key Impacts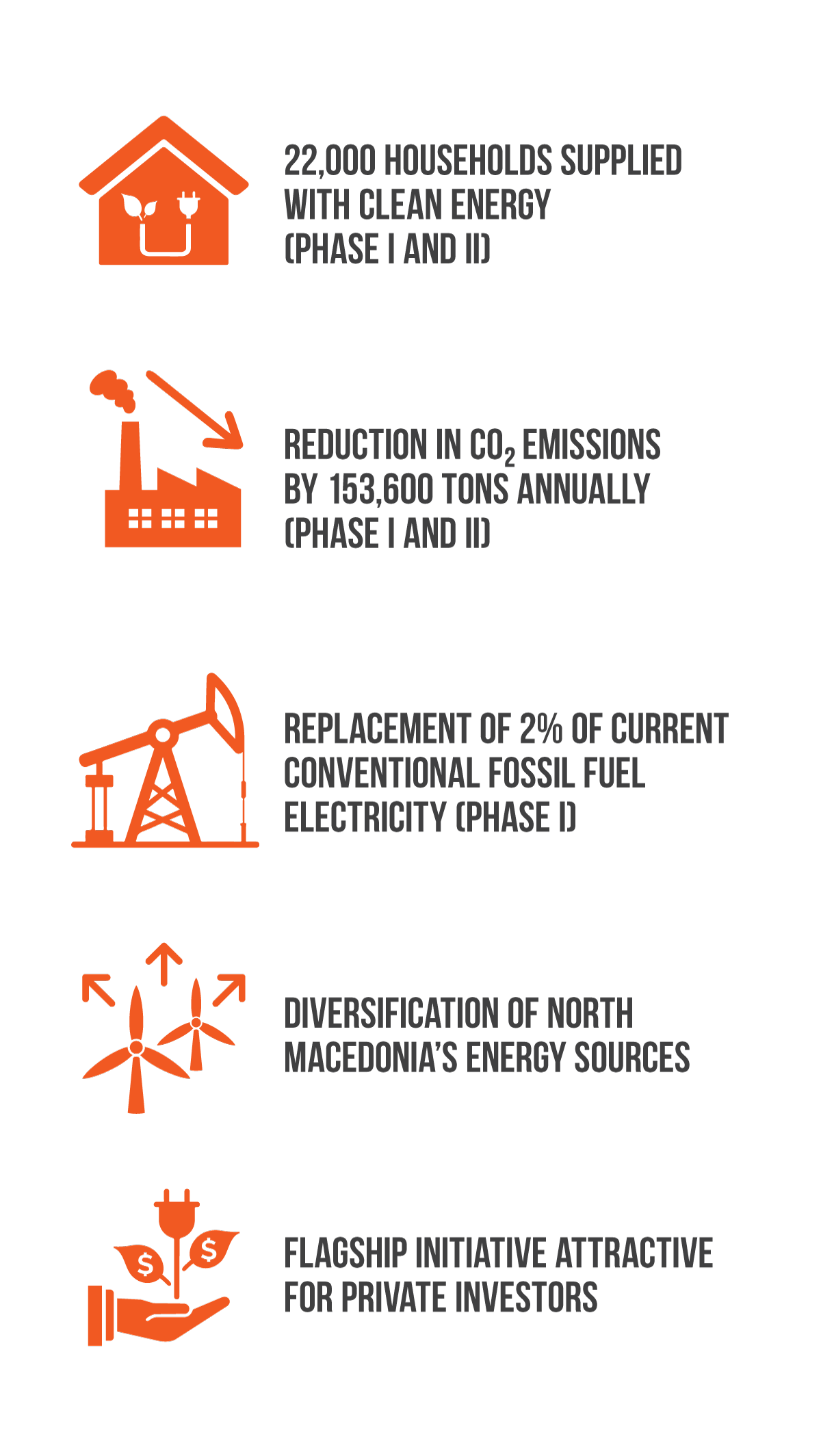 The Bogdanci wind park enables replacement of electricity generation from fossil fuels and provides savings in the emission of greenhouse gases.



Project title:
Bogdanci Wind Park Pilot Project
WBIF Grant from the EU:
€0.4 m
KfW Loans:
€65.9 m
Beneficiary Contribution:
€9.7 m
TOTAL PROJECT VALUE:
€76 m
---