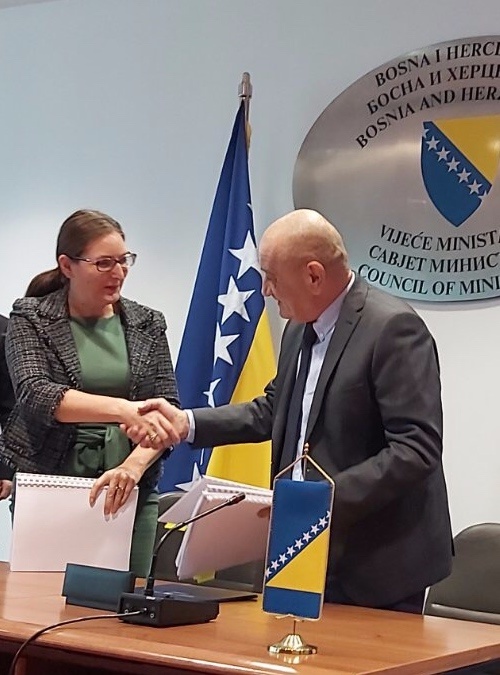 WBIF Bilateral Donors Support Construction of a Regional Sanitary Landfill in Bosnia and Herzegovina
25-11-2019
Up to 180,000 citizens of the municipalities Zivinice, Banovici, Kladanj and surrounding areas will benefit from a new regional sanitary landfill, financed by the EBRD and the EU through the Western Balkans Investment Framework.
Last week in Sarajevo, the representatives of the European Bank for Reconstruction and Development (EBRD) and of the Ministry of Finance and Treasury in Bosnia and Herzegovina, signed a €5 million loan agreement for the construction of a regional sanitary landfill in the canton of Tuzla.
The project "Regional Sanitary Landfill for Zivinice, Banovici and Kladanj" will help to bring the current state of solid waste management closer to targets set by the National Solid Waste Management Strategy in BiH, which identifies the construction of regional sanitary landfills as a prerequisite for a systematic solution to solid waste management. Currently, only six landfills in Bosnia and Herzegovina meet EU standards, while ten more are needed.
This new landfill with a capacity of over one million cubic meters, will introduce a modern solid waste management with integrated recycling for three municipalities in Tuzla Canton (Zivinice, Banovici and Kladanj). The landfill will reduce environmental risks stemming from groundwater and soil contamination, through collection and treatment of leachate, reduce greenhouse gas emissions and prevent fires.
It is also a first step in introducing the so-called circular economy in solid waste management in the municipalities and create jobs for the local economies.
The European Union and the WBIF bilateral donors support this project with a grant for supervision of the construction, worth €360,000. The EBRD is providing a €5 million loan to Bosnia and Herzegovina which is on-lent to Eko-Sep, a regional waste management company established by the three municipalities, for the construction of a new sanitary landfill and a recycling yard. Additionally, Sweden has expressed a strong interest to co-finance the project with a €2.5 million grant.
Ms Manuela Naessl, EBRD Head of Office for Bosnia and Herzegovina, said: "We are pleased to support Tuzla Canton to upgrade the quality of services it provides to 180,000 of its citizens. Improved solid waste management and recycling not only promote the green economy in the country but also reduce environmental risks such as groundwater contamination".
Mr Vjekoslav Bevanda, Deputy Chairman of the Council of Ministers of Bosnia and Herzegovina and Minister of Finance and Treasury: "The goal of the Regional Solid Waste Landfill project is to solve the long-standing solid waste problem in the three municipalities by improving the waste management in compliance with the EU standards in the field."
---
More about the Regional Sanitary Landfill Project here.
More about the WBIF activities in Bosnia and Herzegovina here.
More about the WBIF Bilateral Donors' activities here.